Cytopathology Laboratory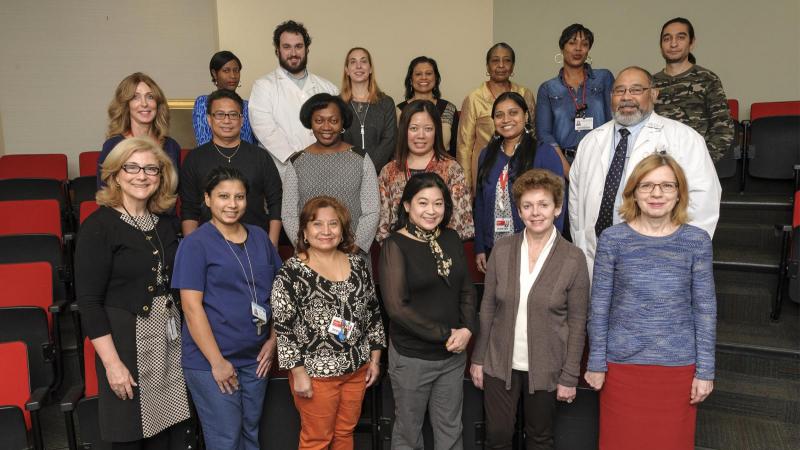 The Cytopathology Laboratory at NewYork-Presbyterian Hospital/Columbia University Medical Center (NYPH/CUMC) is a state-of-the-art clinical diagnostic laboratory and a leading provider of testing and consultation in cytopathology. The fully accredited laboratory is staffed by nationally recognized cytopathologists with expertise in all areas of cytology. The Cytopathology Laboratory provides diagnostic testing on gynecologic and non-gynecologic cytology specimens. In addition, the laboratory works in close collaboration with physicians and scientists in personalized genomic medicine, flow cytometry, and cytogenetics to offer additional specialized studies. Members of the laboratory utilize a multidisciplinary team approach to ensure a high quality of testing and diagnosis.
The Cytopathology Laboratory is responsible for the interpretation of all gynecologic and non-gynecologic cytology specimens at NYPH/CUMC. Our services are also available to physicians practicing outside of NYPH/CUMC.
The Cytopathology Laboratory accessions approximately 50,000 gynecologic and 11,300 non-gynecologic specimens annually, including 2,500 fine-needle aspiration biopsies (FNAs). For gynecologic Pap test specimens, we utilize ThinPrep® liquid-based preparations and the ThinPrep Imaging System® (Hologic, Bedford, MA). This automated system ensures that a gynecologic Pap test undergoes two distinct reviews: one full review by the ThinPrep Imager computer and another by an experienced cytotechnologist. This blend of computer-imaging technology with human expertise allows for more accurate test results. Non-gynecologic specimens processed by our lab include exfoliative cytology specimens—effusions, cerebrospinal fluids, urines, and bronchoalveolar specimens—as well as FNAs.
Our board-certified cytopathologists routinely perform FNAs of palpable lesions, based on referrals from other medical professionals. To schedule an FNA, please call (212) 305-2360.
The Cytopathology Laboratory also provides rapid on-site evaluation (ROSE) of image-guided fine-needle aspirations and core biopsies in order to assess cellular adequacy and properly triage specimens to ancillary studies. ROSE is offered for endobronchial ultrasound-guided mediastinal/hilar lymph node FNAs, endoscopic ultrasound-guided pancreatic FNAs, computed tomography-guided FNAs, and ultrasound-guided thyroid FNAs, among other interventional procedures.
Our cytopathologists routinely provide second-opinion diagnostic reviews of cytology slides prepared at outside laboratories and hospitals. To send a case to us for consultation, please call (212) 305-2360.
The Cytopathology Laboratory is committed to providing superior diagnostic testing services and making personalized medicine a reality for our physician-colleagues and their patients.
Contact Us
Cytopathology Laboratory
Columbia University Medical Center/NewYork-Presbyterian Hospital
630 West 168th Street
16th Floor, Room 16-402
New York, NY 10032
Phone: 212-305-2360
Faculty
Swikrity Upadhyay Baskota, MD

Assistant Professor of Pathology and Cell Biology at CUMC

Adela Cimic, MD

Assistant Professor of Pathology & Cell Biology at CUMC

John P. Crapanzano, MD

Associate Professor of Pathology and Cell Biology at CUMC

Abel A. Gonzalez, MD, FCAP

Assistant Professor of Pathology and Cell Biology at CUMC

Zakaria Grada, MD

Assistant Professor of Pathology and Cell Biology at CUMC

Anjali Saqi, MD, MBA

Professor of Clinical Pathology and Cell Biology at CUMC

Simon Sung, MD

Assistant Professor of Pathology & Cell Biology at CUMC

Renu Kaur Virk, MD

Director, Cytopathology Laboratory; Associate Professor of Pathology and Cell Biology at CUMC

Dr. Elhum Yousefi, MD

Assistant Professor of Pathology and Cell Biology at CUMC