Pulmonary Pathology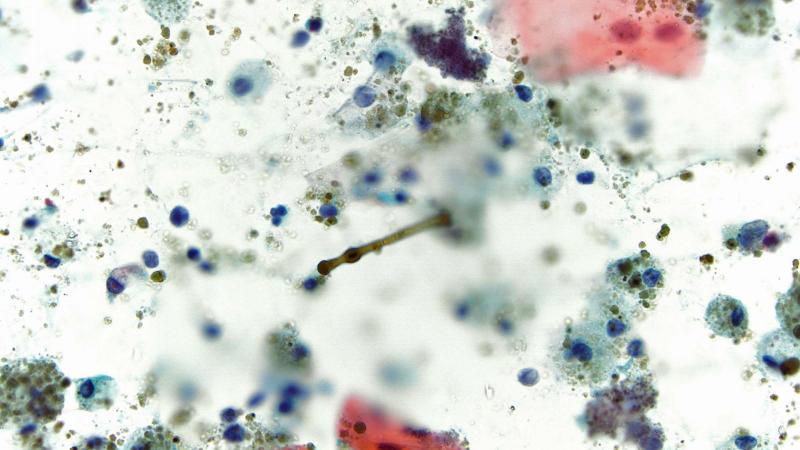 The Pulmonary Pathology Unit of the Department of Pathology and Cell Biology provides experience with a wide variety of diagnostic material in both neoplastic and nonneoplastic diseases of adult and pediatric cases, including congenital diseases.
Our group of surgical pathologists reviews neoplastic cases and presents them at weekly chest-tumor board meetings, with attendance by faculty from oncology, pulmonary medicine, radiation oncology, radiology, and thoracic surgery. This approach ensures that specific aspects of the patient's condition are appreciated by the different services and results in optimized care.
For nonneoplastic diseases, outside slide reviews and in-house surgical biopsies provide experience in both common and unusual lung diseases, including pulmonary infections, (new onset) diagnosis of interstitial diseases, pulmonary hypertension, and pre-lung transplant evaluations. A multidisciplinary approach involving close collaboration with medicine, radiology, rheumatology, and surgery is also used in these cases in order to ensure an accurate nonneoplastic lung disease pathologic diagnosis.
In addition, a conference with pathology, radiology, and pulmonary medicine is held to review interesting and challenging cases.
The diagnostic work also fuels interest in nonneoplastic-disease research, combining interests in basic science, clinical medicine, rheumatology, radiology, and pathology.
Contact Us
Pulmonary Pathology
NewYork-Presbyterian Hospital/Columbia University Medical Center
Specimen Shipping/Drop-Off
Department of Pathology and Cell Biology
630 W. 168th Street, Vanderbilt Clinic Building
14th Floor, VC14-224
New York, NY 10032
Phone: (212) 305-6719
Fax: (212) 305-2301
Slide Send Out Service
Phone: (212) 305-0958
Email: SlideSendoutreq@cumc.columbia.edu
Pathology Client Services
Phone: (800) 653-8200
Fax: (646) 426-0080
​Email: pathcustomerservice@cumc.columbia.edu