Renal Pathology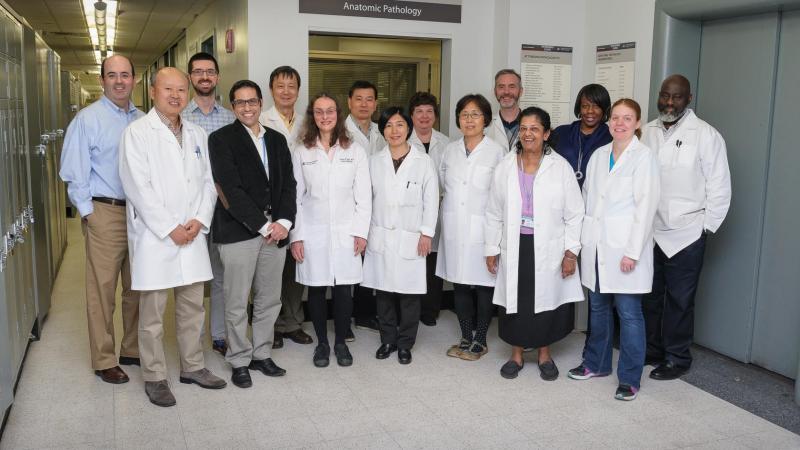 The Renal Pathology Laboratory of the Department of Pathology and Cell Biology specializes in the diagnosis of medical diseases of the kidney. The practice of nephropathology centers on diverse nonneoplastic kidney disorders affecting the glomerular, tubulo-interstitial, and vascular compartments.
The laboratory, one of the largest in the country, processes approximately 5,000 renal biopsies per year (including native and allograft biopsies) from 13 states. Renal biopsies are evaluated routinely by the three modalities of light microscopy, immunofluorescence microscopy, and electron microscopy. Tissue studies for disease biomarkers are performed in selected cases. Genetic analysis is available upon request through referral to the Glomerular Center of Columbia University Irving Medical Center (CUIMC). The laboratory is considered a national center of excellence for renal biopsy interpretation and is frequently requested to consult on difficult cases from outside centers. The routine biopsy service always includes a phone discussion with the referring nephrologist to convey detailed information about clinical correlations, prognostic features, and treatment options.
The laboratory is staffed by seven full-time renal pathologists, with 12 dedicated laboratory technologists providing highly skilled technical support.
In addition to diagnostic renal pathology, the laboratory is actively involved in a number of clinical-pathologic and translational research studies. Major areas of research include pathomechanisms of focal segmental glomerulosclerosis, lupus nephritis, C3 glomerulopathy, and drug toxicities. Faculty members participate in NIH-sponsored translational and basic research into the major glomerular causes of nephrosis, diabetic nephropathy, and HIV-associated kidney diseases, among others. The laboratory has hosted international consensus conferences on classifications of lupus nephritis and focal segmental glomerulosclerosis.
The Renal Pathology Laboratory runs an annual postgraduate CME course entitled "The Columbia Renal Biopsy Course", which will be in its 46th year in 2023 and takes place every summer at CUIMC. The course, which is given jointly with the Division of Nephrology, provides a comprehensive review and update of major diagnostic entities in nephropathology, with emphasis on clinical correlations and pathogenesis. The course is the longest-running CME course at CUIMC and is attended annually by approximately 300 registrants from throughout the U.S. and six continents.
The laboratory hosts a popular weekly in-house renal biopsy conference as well as many regional conferences at referring centers in the tristate area. These conferences provide in-depth case-based education for CUIMCs nephrology fellows and attendings, as well as ongoing continuing medical education to referring nephrologists.
The Renal Pathology Laboratory runs a longstanding renal pathology fellowship program offering one year of specialty training. Fellowship trainees are highly sought for positions at major academic centers in the U.S. and abroad.
Contact Us
Renal Pathology
NewYork-Presbyterian Hospital/Columbia University Medical Center
Specimen Shipping/Drop-Off
Department of Pathology and Cell Biology
630 W. 168th Street, Vanderbilt Clinic Building
14th Floor, VC14-224
New York, NY 10032
Phone: (212) 305-6719
Fax: (212) 305-2301
Slide Send Out Service
Phone: (212) 305-0958
Email: SlideSendoutreq@cumc.columbia.edu
Pathology Client Services
Phone: (800) 653-8200
Fax: (646) 426-0080
​Email: pathcustomerservice@cumc.columbia.edu
Faculty
Vivette D. D'Agati, MD

Director, Renal Pathology Laboratory; Delafield Professor of Pathology and Cell Biology at CUMC

Ibrahim Batal, MD

Associate Professor of Pathology and Cell Biology at CUMC

Satoru Kudose, MD

Assistant Professor of Pathology and Cell Biology at CUMC

Glen S. Markowitz, MD

Professor of Pathology and Cell Biology at CUMC

Dominick Santoriello, MD

Associate Professor of Pathology and Cell Biology at CUMC

Miroslav Sekulic, MD

Assistant Professor of Pathology and Cell Biology at CUMC

Michael B. Stokes, MD, BCh

Professor of Pathology and Cell Biology at CUMC