​Basic Research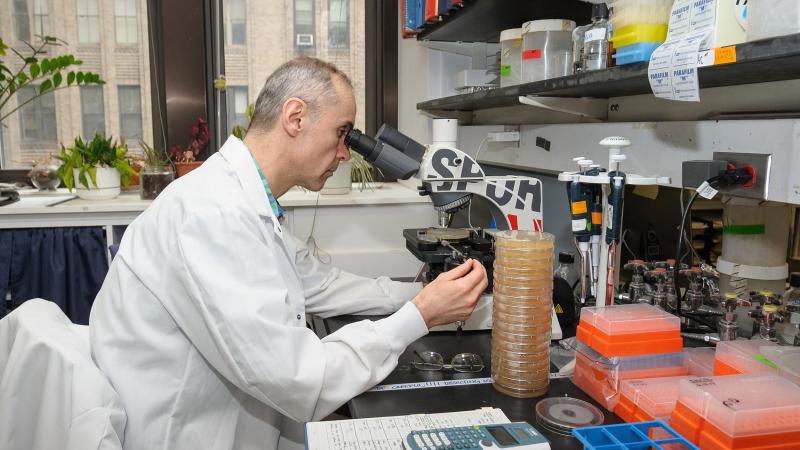 The Department of Pathology and Cell Biology at Columbia University conducts basic research with a special focus on cell biology and the understanding of biology, disease, and medicine through cellular and subcellular behavior.
Areas of interest include Blood/Iron Biology, Cancer Biology, Cell Biology and Signaling, Neurobiology, Nucleus and Gene Expression, and Stem Cell Biology. The overarching goal is to increase our understanding of the pathophysiological basis of disease and biological systems.
Blood/Iron Biology
The study of Blood and Iron Biology at Columbia University Medical Center is a collaboration of faculty members, scientists, and trainees who are devoted to research about blood component preparation, blood storage, blood transfusion, and adverse effects caused by blood transfusion. The faculty members have subspecialty expertise in Clinical Pathology, Transfusion Medicine, Hematology, Oncology, Pediatrics, and Comparative Medicine. Their research involves studies with cell culture models, murine and canine animal models, human volunteers, and human patient populations. The department offers educational and training opportunities, hosting fellows and graduate students from around the world.
Cancer Biology
A significant part of Columbia University  Pathology and Cell Biology faculty research interests include a commitment to identifying the biological and molecular mechanisms involved in the pathogenesis of cancer. Researchers in these areas focus on: i) dissecting the mechanisms involved in specific tumor types, including brain cancer, T cell and B cell malignancies, and breast cancer; and/or ii) studying mechanisms involved in most cancer types, including alterations in DNA repair, apoptosis, metastasis and metabolism. Researchers in affiliated centers utilize classic approaches such as transgenic mice to model human cancers and also employ new technology such as NextGen sequencing to identify and characterize key genes and proteins and transcriptional and signaling pathways involved in tumor initiation and progression. The results are translated in novel approaches to diagnostics and target therapies.  Our cancer research faculty hold appointments in the Institute for Cancer Genetics (ICG), the Herbert Irving Comprehensive Cancer Center (HICCC), and other important affiliates at Columbia University and beyond.
Cell Biology, Cell Structure, and Cell Signaling
The Department of Pathology and Cell Biology has a rich history in exploring fundamental mechanisms of cellular function and has established a diverse faculty whose research aims to unravel the molecular mechanisms that dictate cellular structure and signaling.  Research in the department has been traditionally focused on cell biology mechanisms relevant to cytoskeletal dynamics and cell polarity, in particular how these signaling pathways drive cell migration during tissue development and in pathological disease. Our department is home to several distinguished researchers who have long-standing interests in neurobiology, signaling pathways involved in neurodegenerative disease, and motor protein function during neural stem cell division and cell migration. There is a burgeoning research focus in the cell biology of tissue stem cells, and the mechanisms that drive cell fate specification during development of the skin and nervous system. Faculty members are highly interactive and collaborative and are committed to establishing the next generation of scientists through graduate and post-graduate training.
Neurobiology
Neurobiological research in the Department of Pathology and Cell Biology at Columbia University is made up of several specialties that focus on varying aspects of neurological disease and disorders. Neurobiology groups within the department share a common interest towards understanding the molecular and cellular mechanisms underlying the development, function, and pathologies of the nervous system. These questions are being asked in a range of contexts; from development to age-related neurodegeneration, and in all of its parts, including the central, peripheral and enteric nervous systems. A diverse set of models are being used and developed to explore these problems: neuronal cell lines, primary neurons, neurons derived from embryonic stem cells as well from induced pluripotent stem cells of patients, and genetically modified animal models. Close collaborations with colleagues from the clinical side of the department also provide the opportunity to include analysis of patient samples, extending research into translational territories. Indeed, it is notable that both basic and translational research are equally represented in the department and inform each other. For instance, the basic science areas include the generation of distinct classes of neurons and glial cells, the formation of neuronal circuitry and synapses, the neuronal cytoskeleton, axonal transport, and RNA regulation in neurons, questions that complement the quest for finding new treatments for neural pathologies such as motor neuron diseases (ALS and SMA), Alzheimer's disease, gliomas, and retinal degeneration, which are undertaken by the translational research in the department.
We are dedicated to the advancement of research, diagnosis, and treatment of brain disorders. In collaboration with the Columbia Brain Tumor Center, the Department of Systems Biology, Department of Neurological Surgery, the Institute for Genomic Medicine (IGM), and researchers from Mount Sinai Medical School and the Mayo Clinic, our pathologists utilize state-of-the-art methodologies to discover therapeutic targets, including genomic and transcriptomic analyses. The department encompasses and/or closely collaborates with several specialized centers including the Taub Institute for Research on Alzheimer's Disease and the Aging Brain, the Motor Neuron Center, the Columbia Stem Cell Initiative, and the Department of Neurology, which bring together neurobiologists from different specialties, allowing their close collaborations towards a comprehensive understanding of the function and pathology of the nervous system.
Nucleus, Gene Expression, and RNA Biology
The Department of Pathology and Cell Biology hosts a number of research programs that cover the structure, function, and regulation of the cell nucleus, gene expression, and RNA biology. Investigators are conducting leading research focused in these programmatic areas in cancer, development and in the neuroscience spaces. The spectrum of research programs ranges from fundamental studies of molecular regulation of cell division such as in C. elegans, the cytoskeletal control of organelle movements and segregation during cell division, to studies of mitotic motors and checkpoint proteins. Other programs are investigating the mechanisms of proliferation and differentiation of stem and progenitor cells. At the disease level, ongoing projects are addressing the molecular mechanisms of proliferation and survival of leukemic and lymphoid cells, RNA dysregulation and motor neuron pathology, and cell signaling in neurodegenerative disorders. In cancer, ongoing studies integrate trancriptomic, genomic and epigenetic alterations that underlie the biology of pre-cancer lesions and cancers such as those of the gastrointestinal tract and pancreas, and are translatable to the clinic as biomarkers.
Stem Cell Biology
The Department of Pathology and Cell Biology is home to a rich and diverse research program in Stem Cell Biology, whose scientific interests range from the study of the role played by stem cell populations in organ development and tissue homeostasis, to the understanding of their contribution to the origin, progression and drug-resistance of human cancer (i.e. cancer stem cells), to the development of novel approaches for their translational use in gene therapy and other regenerative medicine applications. The research areas covered by the program include the study of embryonic stem cells (ESCs), induced pluripotent stem cells (iPSCs) as well as various types of adult stem cell populations across different tissues (e.g. neural stem cells, hematopoietic stem cells, epithelial stem cells of the skin, gastrointestinal tract and genito-urinary system). The program places particular emphasis on the application of cutting-edge "single-cell genomics" technologies for the discovery and molecular analysis of stem cell populations, as well as on the development of novel tissue-culture techniques and bioengineering tools for their ex vivo purification, in vitro expansion and genetic manipulation for regenerative medicine applications. The research program takes advantage of strategic collaborations with the Columbia Stem Cell Initiative (CSCI), the Herbert Irving Comprehensive Cancer Center (HICCC), the Irving Institute for Clinical and Translational Research (IICTR), the Institute of Genomic Medicine (IGM), the JP Sulzberger Columbia Genome Center of the Department of Systems Biology, the Stem Cells and Cellular Models Platform of the Taub Institute, and the Nanotherapeutics and Stem Cell Engineering (NCSE) laboratory of the Department of Biomedical Engineering.
Basic Research Investigators