Swarnali Acharyya, PhD
Associate Professor of Pathology and Cell Biology (in the Institute for Cancer Genetics)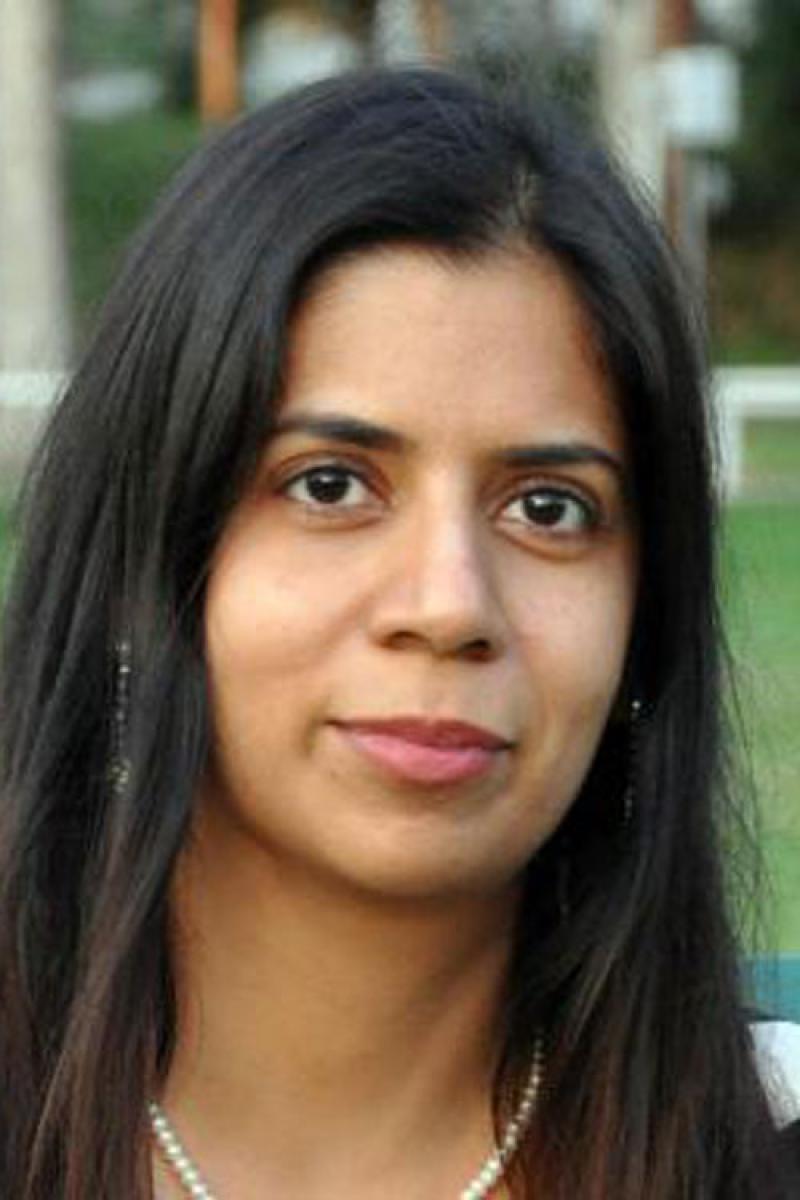 Overview
Academic Appointments
Associate Professor of Pathology and Cell Biology (in the Institute for Cancer Genetics)
Research
Metastasis is the predominant cause of cancer-patient mortality. Our laboratory studies what makes metastasis lethal and how we can successfully target metastases to improve outcomes for cancer patients. We study metastasis as a systemic disease, which involves the crosstalk between metastatic cancer cells and both the cancer-inhabiting and cancer-free organs of the body. By interrupting this crosstalk, we aim to target the key biological processes that sustain the growth and survival of metastases.
Our group investigates two key areas of metastasis biology ? the therapy resistance of metastatic tumors and the systemic effects of metastatic disease, both of which contribute to the lethality observed in metastatic cancers. Our work in these areas is briefly described below.
Therapy resistance underlies metastasis-induced lethality since relapse is almost inevitable following metastatic cancer treatment. By analyzing how adaptive mechanisms within metastatic tumors evolve with treatment, we identified a novel S100A9-ALDH1A1-retinoic acid (RA) signaling axis that promotes therapy resistance in brain metastases from EGFR-mutant lung cancer patients (Biswas et al.; Cancer Discovery, 2022). Our present work explores the mechanisms that promote targeted-therapy resistance in different metastatic organs in breast and lung cancer.
Metastasis-induced lethality is primarily attributed to vital organ dysfunction; however, it also results from the metabolic deregulation of organs that are free of cancer cells. Indeed, over 80% of metastatic cancer patients suffer from a debilitating loss of skeletal muscle mass and function known as cachexia. Cachexia is associated with reduced tolerance to anti-neoplastic therapy, poor prognosis, and accelerated death in metastatic cancer patients, and it is thought to arise from the release of tumor factors into the circulation that deregulate host metabolism. To study the process of cachexia during metastatic disease, we generated metastatic mouse models of different cancer types that develop cachexia and identified a zinc transporter, ZIP14, as a marker and mediator of cachexia (Wang et al., Nature Medicine, 2018). We found that Zip14 expression is reliably induced in muscles in response to metastatic cancer cells anywhere in the body, suggesting that muscle tissue can detect the presence of cancer cells at the earliest stages of metastatic relapse. We are currently investigating the host-tumor interactions by which muscles "sense" and "respond" to the presence of metastatic cancer cells elsewhere in the body.
We envision that understanding the biological mechanisms driving both therapy resistance and the early metastasis-induced molecular changes in muscle will inform the design of more effective and durable treatments for metastatic cancer patients that can prolong their survival.
Lab Link:
Selected Publications
Paik PK, Luo J, Ai N, Kim R, Ahn L, Biswas A, Coker C, Ma W, Wong P, Buonocore DJ, Lai WV, Chaft JE, Acharyya S, Massagué J, Kris MG. Phase I trial of the TNF-α inhibitor certolizumab plus chemotherapy in stage IV lung adenocarcinomas. Nat Commun. 2022 Oct 15;13(1):6095. doi: 10.1038/s41467-022-33719-6. PMID: 36241629; PMCID: PMC9568581.
Biswas AK, Han S, Tai Y, Ma W, Coker C, Quinn SA, Shakri AR, Zhong TJ, Scholze H, Lagos GG, Mela A, Manova-Todorova K, de Stanchina E, Ferrando AA, Mendelsohn C, Canoll P, Yu HA, Paik PK, Saqi A, Shu CA, Kris MG, Massague J, Acharyya S. Targeting S100A9-ALDH1A1-Retinoic Acid Signaling to Suppress Brain Relapse in EGFR-Mutant Lung Cancer. Cancer Discovery. 2022 Apr 1;12(4):1002-1021. doi: 10.1158/2159-8290.CD-21-0910. PMID: 35078784; PMCID: PMC8983473.
Biswas AK, Acharyya S. Understanding cachexia in the context of metastatic progression. Nat Rev Cancer. 2020 May;20(5):274-284. doi: 10.1038/s41568-020-0251-4. Epub 2020 Mar 31. PMID: 32235902.
Biswas AK, Acharyya S. The Etiology and Impact of Muscle Wasting in Metastatic Cancer. Cold Spring Harb Perspect Med. 2020 Oct 1;10(10):a037416. doi: 10.1101/cshperspect.a037416. PMID: 31615873; PMCID: PMC7528856.
Wang G, Biswas AK, Ma W, Kandpal M, Coker C, Grandgenett PM, Hollingsworth MA, Jain R, Tanji K, L?pez-Pintado S, Borczuk A, Hebert D, Jenkitkasemwong S, Hojyo S, Davuluri RV, Knutson MD, Fukada T, Acharyya S. Metastatic cancers promote cachexia through ZIP14 upregulation in skeletal muscle. Nature Medicine. 2018 Jun;24(6):770-781. doi: 10.1038/s41591-018-0054-2. Epub 2018 Jun 6. PMID: 29875463; PMCID: PMC6015555.
Acharyya S, Oskarsson T, Vanharanta S, Malladi S, Kim J, Morris PG, Manova-Todorova K, Leversha M, Hogg N, Seshan VE, Norton L, Brogi E, Massagué J. A CXCL1 paracrine network links cancer chemoresistance and metastasis. Cell. 2012 Jul 6;150(1):165-78. doi: 10.1016/j.cell.2012.04.042. PMID: 22770218; PMCID: PMC3528019./li>
Oskarsson T, Acharyya S, Zhang XH, Vanharanta S, Tavazoie SF, Morris PG, Downey RJ, Manova-Todorova K, Brogi E, Massagué J. Breast cancer cells produce tenascin C as a metastatic niche component to colonize the lungs. Nature Medicine. 2011 Jun 26;17(7):867-74. doi: 10.1038/nm.2379. PMID: 21706029; PMCID: PMC4020577.
Kim MY, Oskarsson T, Acharyya S, Nguyen DX, Zhang XH, Norton L, Massagué J. Tumor self-seeding by circulating cancer cells. Cell. 2009 Dec 24;139(7):1315-26. doi: 10.1016/j.cell.2009.11.025. PMID: 20064377; PMCID: PMC2810531.
Gupta GP, Perk J, Acharyya S, de Candia P, Mittal V, Todorova-Manova K, Gerald WL, Brogi E, Benezra R, Massagué J. ID genes mediate tumor reinitiation during breast cancer lung metastasis. Proc Natl Acad Sci. U S A. 2007 Dec 4;104(49):19506-11. doi: 10.1073/pnas.0709185104. Epub 2007 Nov 28. PMID: 18048329; PMCID: PMC2148319.
Acharyya S, Villalta SA, Bakkar N, Bupha-Intr T, Janssen PM, Carathers M, Li ZW, Beg AA, Ghosh S, Sahenk Z, Weinstein M, Gardner KL, Rafael-Fortney JA, Karin M, Tidball JG, Baldwin AS, Guttridge DC. Interplay of IKK/NF-kappaB signaling in macrophages and myofibers promotes muscle degeneration in Duchenne muscular dystrophy. J Clin Invest. 2007 Apr;117(4):889-901. doi: 10.1172/JCI30556. Epub 2007 Mar 22. PMID: 17380205; PMCID: PMC1821069.
Acharyya S, Butchbach ME, Sahenk Z, Wang H, Saji M, Carathers M, Ringel MD, Skipworth RJ, Fearon KC, Hollingsworth MA, Muscarella P, Burghes AH, Rafael-Fortney JA, Guttridge DC. Dystrophin glycoprotein complex dysfunction: a regulatory link between muscular dystrophy and cancer cachexia. Cancer Cell. 2005 Nov;8(5):421-32. doi: 10.1016/j.ccr.2005.10.004. PMID: 16286249.