Transfusion Medicine and Cellular Therapy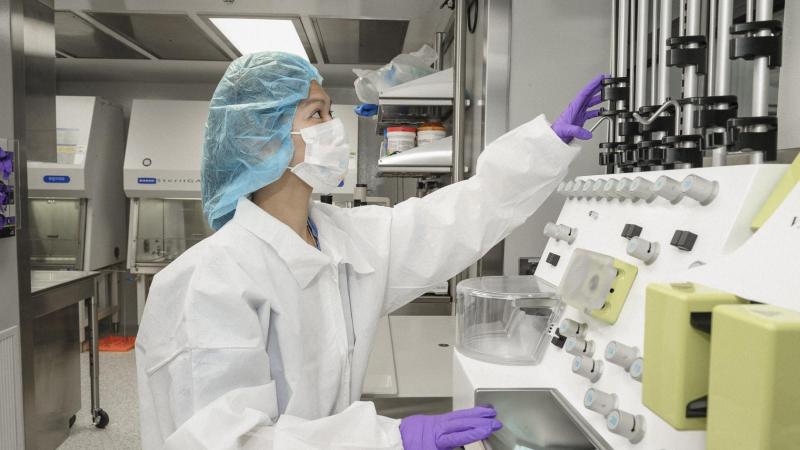 View Transfusion Medicine Test Menu
The Transfusion Medicine and Cellular Therapy Unit at NewYork-Presbyterian Hospital/Columbia University Medical Center (NYPH/CUMC) comprises the Immunohematology Laboratory and Blood Bank (Transfusion Service), the Hemotherapy/Apheresis Unit, and the Cellular Therapy Laboratory. All components of the Transfusion Medicine and Cellular Therapy Unit perform testing, patient care, and supply blood products in a timely manner for both inpatient and outpatient settings. This includes multiple operating rooms in the Vivian and Seymour Milstein Family Heart Center and NewYork-Presbyterian Morgan Stanley Children's Hospital.
The Hemotherapy/Apheresis Unit performs all types of exchange procedures, including plasma exchange and RBC exchange, as well as lifesaving depletion procedures such as leukocytapheresis and thrombocytapheresis. In addition, the unit also collects hematopoietic progenitor cells from related allogenic or autologous (self) donors for bone-marrow transplantation. Finally, extracorporeal photochemotherapy (photopheresis; ECP) is now being offered as an integral part of the care of patients on the different transplant services diagnosed after transplantation with either graft vs. host disease (bone-marrow transplant) or cellular rejection (solid organ—heart, lung) refractory to standard immunosuppression, such as corticosteroids.
The Cellular Therapy Laboratory processes and stores hematopoietic progenitor cells for bone-marrow transplantation from all currently acceptable sources, including bone marrow, peripheral blood, and umbilical-cord blood. In addition, the laboratory processes parathyroid tissue and pancreatic islets for autologous transplantation. In 2016, we opened a newly designed cGMP facility as part of the Cellular Therapy Laboratory. The cGMP facility supports the growing use of the hematology/oncology service and the introduction of new immunotherapies, as well as the continuous growth of unique solid-organ transplantations services such as islet cell transplantation. All those parts of the Transfusion Medicine and Cellular Therapy Unit are integrated under the leadership of trained and specialized medical directors.
We also work in close consultation with sections of the Department of Pathology and Cell Biology (e.g., renal pathology and immunogenetics) and with multiple clinical departments to provide the support required to treat complex medical problems seen in CUMC's patient populations.
Contact Us
Transfusion Medicine and Cellular Therapy
Columbia University Medical Center/NewYork-Presbyterian Hospital
622 West 168th Street
Harkness Pavillion, 4-418
New York, NY 10032
Faculty
Elizabeth Stone, MD, PhD

Assistant Director of Transfusion Medicine and Cellular Therapy; Assistant Professor of Pathology and Cell Biology at CUMC

Brie Stotler, MD, MPH

Division Chief of Transfusion Medicine and Cellular Therapy; Associate Professor of Pathology and Cell Biology at CUMC

Yvette C. Tanhehco, PhD, MD, MS

Director of Hemotherapy and Cellular Therapy; Assistant Director of Transfusion Medicine; Associate Professor of Pathology and Cell Biology at CUMC

Sarah Vossoughi, MD, RN

Associate Director of Transfusion Medicine; Medical Director of Hemotherapy and Apheresis; Assistant Professor of Pathology and Cell Biology at CUMC

Stuart Weisberg, MD, PhD

Attending Physician, Assistant Professor of Pathology & Cell Biology