Clinical Microbiology Service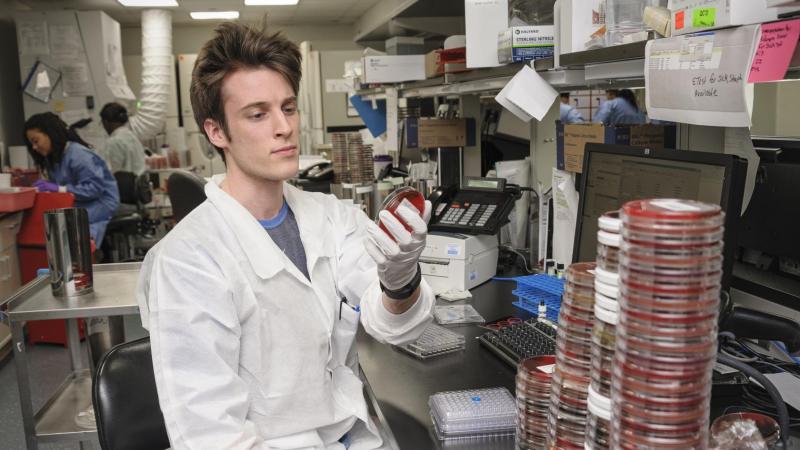 View Clinical Microbiology Service Test Menu
The Clinical Microbiology Laboratory at NewYork-Presbyterian Hospital/Columbia University Medical Center offers full-service diagnostic testing in bacteriology, virology, mycology, mycobacteriology, parasitology, and molecular epidemiology. Our laboratory provides timely, accurate, and medically relevant results to aid in the evaluation, diagnosis, and treatment of infectious diseases. The laboratory is located on the 2nd and 3rd floors of the NewYork-Presbyterian Hospital Morgan Stanley Children's Hospital and is staffed by over 50 medical technologists and laboratory professionals who perform approximately 500,000 tests annually.
Our test menu consists of cutting-edge molecular diagnostics in addition to traditional culture-based methods; particular highlights include DNA sequencing technologies, nationally-recognized comprehensive evaluation of cystic fibrosis microbiology, and rapid molecular diagnostics for bloodstream, gastrointestinal, and respiratory infections. The laboratory directors are available for consultation on diagnostic test selection, interpretation of results, and clinical guidance. We also work closely with Adult and Pediatric Infectious Diseases, the Pharmacy Department, and the Infection Control Program to ensure the highest quality of care is provided to our patients.
In addition to our clinical services, we continually research, evaluate, and implement new diagnostic approaches that can improve test accuracy, reduce turn-around time, and benefit patient care. Additional research collaborations with other departments and clinical services are ongoing. We are also actively engaged in the education and training of medical students, residents, and fellows at Columbia University Medical Center and affiliated institutions. Through these varied efforts, we fulfill our mission of providing the highest quality diagnostic services combined with excellence in teaching and research.
The laboratory is accredited by the College of American Pathologists (CAP) and New York State Department of Health, and is active in the CAP Laboratory Accreditation and Proficiency Testing programs.
Contact Us
Clinical Microbiology Laboratory
Columbia University Medical Center/NewYork-Presbyterian Hospital
3959 Broadway
3rd Floor, 3-325
New York, NY 10032
United States
Phone: 212-305-6276
Faculty
Gregory J. Berry, PhD, D(ABMM)

Co-Director, Clinical Microbiology Service; Associate Professor of Pathology & Cell Biology at CUMC

Daniel A. Green, MD

Co-Director, Clinical Microbiology Service; Assistant Professor of Pathology and Cell Biology at CUMC

Fann Wu, MD, PhD

Associate Director, Clinical Microbiology and Molecular Epidemiology; Associate Professor of Pathology and Cell Biology at CUMC