Cytogenetics Laboratory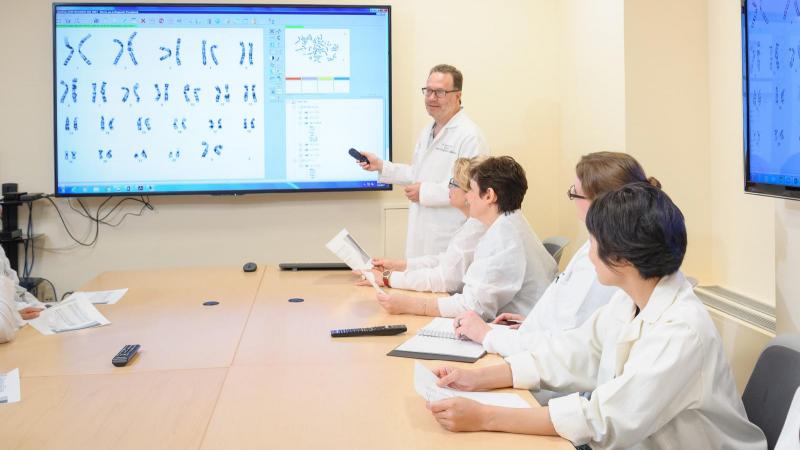 The Cytogenetics Laboratory at NewYork-Presbyterian Hospital/Columbia University Medical Center performs approximately 8,000 tests annually. These tests are processed using both conventional cytogenetic and molecular cytogenetic techniques.
The laboratory offers constitutional chromosome analysis of blood (peripheral blood and umbilical cord), chorionic villi, amniotic fluid, products of conception (miscarriages), and skin fibroblasts. Prenatal molecular cytogenetic tests include rapid aneuploidy detection (24–48 hours) of chromosomes 13, 18, 21, X, and Y by fluorescence in situ hybridization (FISH). Postnatal molecular cytogenetic tests target common microdeletion syndromes such as Prader-Willi syndrome, DiGeorge syndrome, and Williams syndrome. 
The laboratory also offers oncological chromosomal analysis of bone-marrow samples from hematological malignancies. These include acute leukemia, chronic and acute myeloid leukemia, myelodysplastic syndrome, myeloproliferative disorders, multiple myeloma, and chronic lymphocytic leukemia.
In addition, cytogenetic testing is done on solid tumors, such as renal cell carcinoma, testicular tumors, and liposarcomas. We also specialize in UroVysion FISH and CC panels for brush samples.
Contact Us
Clinical Cytogenetics Laboratory
Columbia University Medical Center/NewYork-Presbyterian Hospital
3959 Broadway, CHONY 4th Floor
New York, NY 10032
Phone: 212-305-6460
Faculty
Brynn Levy, M. Sc.(Med), PhD

Director, Clinical Cytogenetics Laboratory; Professor of Pathology and Cell Biology at CUMC