Automated Core Laboratory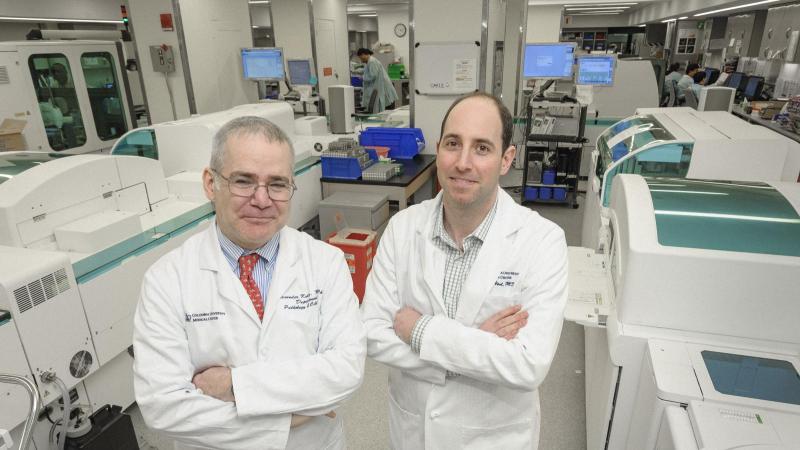 View Automated Core Laboratory Test Menu
The Automated Core Laboratory provides high-quality, reliable, state-of-the-art testing for inpatients and outpatients at NewYork-Presbyterian Hospital/Columbia University Medical Center (NYPH/CUMC). We process over 10,000 samples a day and report over 14 million tests annually in specialty areas that include chemistry, hematology, and coagulation. We use automated instrumentation for pre-analytics, analytics, and post-analytics. The majority of our samples are prepared, analyzed, resulted in the electronic medical record, and stored with minimal or no direct human intervention. Our lab is accredited by both the New York State Department of Health and the College of American Pathologists. The staff of over 140 employees includes directors, managers, supervisors, certified laboratory technologists, and clerical workers.
The Automated Core Laboratory has two satellite laboratories, located in the Emergency Department of the NewYork-Presbyterian Morgan Stanley Children's Hospital and in the Herbert Irving Pavilion (HIP). The laboratory in NewYork-Presbyterian Morgan Stanley Children's Hospital ensures that children coming to the emergency room have immediate access to urgently needed laboratory results. The laboratory in HIP provides similar services to patients with cancer, decreasing wait times and shortening the duration of their visits.
Faculty in the Automated Core Laboratory are engaged in a range of projects aimed at both validating and improving the use of advanced diagnostics for better patient care. Examples of these projects include:
Validating novel instrument platforms for enumerating cells in cerebrospinal fluid
Validating new instrument platforms for diagnosing coagulation and hematologic disorders
Improving sickle cell disease care by quantifying hydroxyurea levels using point-of-care devices
Harmonizing Model of End-Stage Liver Disease (MELD) scores across hospital laboratories in a United Network for Organ Sharing (UNOS) region
Faculty in the Automated Core Laboratory also contribute to the academic mission of the department through the training and education of medical students, pathology residents, and medical laboratory scientists.
Contact Us
Automated Core Laboratory
Columbia University Medical Center/NewYork-Presbyterian Hospital
622 West 168th Street
Harkness Pavillion, 3rd Floor
New York, NY 10032
Phone: 212-305-8600
Faculty
Eldad A. Hod, MD

Associate Medical Director, Automated Core Laboratory; Associate Professor of Pathology and Cell Biology

Alexander Kratz, MD

Medical Director, Automated Core Laboratory; Associate Professor of Clinical Pathology and Cell Biology at CUMC