Center for Advanced Laboratory Medicine (CALM)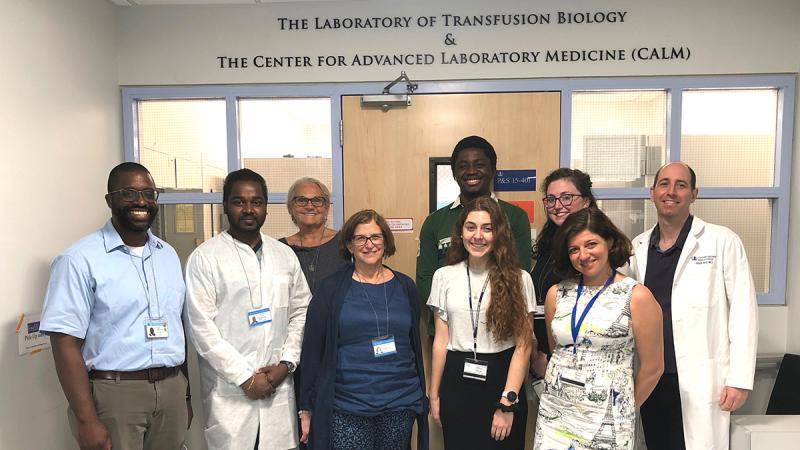 CALM is a center developed to serve as a bridge between researchers and the hospital clinical laboratory at Columbia University Irving Medical Center. We are here to support your clinical laboratory study needs. Our staff are licensed by the American Society for Clinical Pathology and strive for accuracy in results, pay attention to detail, and provide a quick turn-around-time with the services that we offer. CALM medical technologists and all staff members have access to, and actively collaborate with, the faculty members within the Pathology and Cell Biology Department here at Columbia University Irving Medical Center. We are a knowledgeable and creative group that will carefully develop solutions for your research needs.
Eldad Hod, M.D., who is the Director of CALM, is a board-certified Clinical Pathologist and Director of Clinical Laboratories, with over 10 years of expertise in blood banking, clinical chemistry, and hematology testing. Greg Berry, Ph.D., D(ABMM), is an Associate Professor, Co-Director of the Clinical Microbiology Laboratory and board-certified Microbiologist also certified in bacteriology, diagnostic immunology, mycobacteriology, mycology, parasitology and virology. Richard Francis, M.D., Ph.D., is an Associate Professor, Medical Director of the Special Hematology and Coagulation Laboratory and Assistant Medical Director of Point of Care Testing and the Automated Laboratory.  Alex Rai, Ph.D., is Medical Director of Special Chemistry Laboratories and Assistant Medical Director of Point of Care Testing and the Automated Laboratory. Together, this group of leaders will ensure the highest quality of results for your testing needs.
Our Services
We currently offer the following services:
Sample Procurement – We have access to all specimens received in the NewYork-Presbyterian Hospital Laboratories.
Laboratory Testing – Available for both research use and clinical tests.
New Assay Validation – We ensure that results are provided with accuracy and reliability.
New Instrument Validation/ FDA New Device Approval Studies – We can help validate and perform the FDA approval studies for your new device.
Sample Processing, Shipping, Handling, and Temporary Storage – We have flexible space and freezers to handle, process, store, and ship samples.
Phlebotomy – CALM is equipped with phlebotomy stations and phlebotomists from 8:30 a.m.–4:00 p.m.
Data Management – Data is stored in secure, encrypted databases, accessible for review through protected web access.
We will provide the highest quality results at competitive, reasonable rates.
Healthy Blood Products
For access to a variety of blood products from healthy blood donors (e.g., whole blood, buffy coats, mononuclear or hematopoietic cells, etc.), please see the following link:
Collaboration
If you are interested in a collaboration, please email CALM@columbia.edu to begin the process.
Location
Staff
Directors
Eldad A. Hod, MD

Director, Center for Advanced Laboratory Medicine (CALM); Associate Professor of Pathology & Cell Biology

Gregory J. Berry, PhD, D(ABMM)

Associate Director, Center for Advanced Laboratory Medicine (CALM); Associate Professor of Pathology and Cell Biology at CUMC

Richard O. Francis, MD, PhD

Medical Director, Special Hematology and Coagulation Laboratory; Associate Professor of Pathology & Cell Biology at CUMC

Alex J. Rai, PhD

Director, Special Chemistry Laboratories, NYP-CUMC; Associate Professor of Pathology & Cell Biology at CUMC
Managers
Erin Poptanich

Research Laboratory Manager
Staff/Medical Technologists
Alamelu Chandrasekaran, PhD

Viplan (Johnson) Mahadeva, CLT

Jane Netterwald, MT, ASCP

Blood Bank Technologist/IT Technologist