Minah Kim, PhD
Assistant Professor of Pathology & Cell Biology at CUMC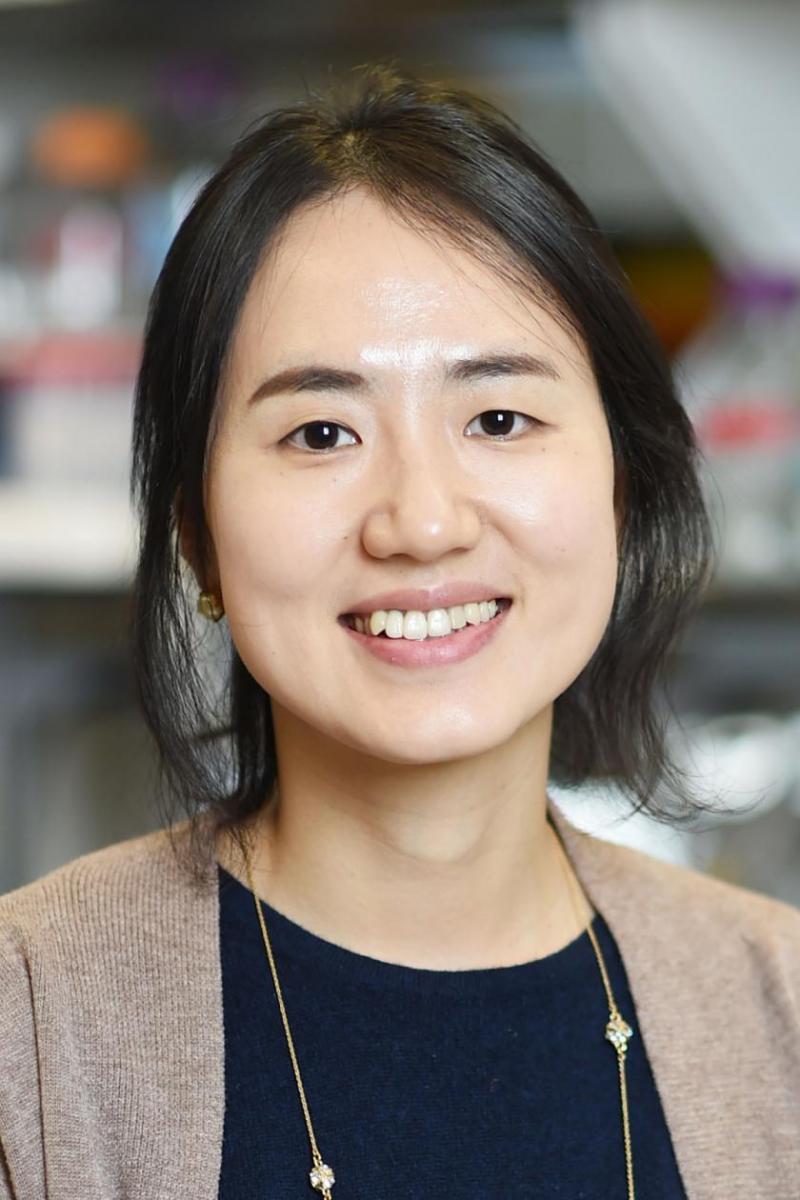 Overview
Academic Appointments
Assistant Professor of Pathology & Cell Biology at CUMC
Credentials & Experience
Education & Training
PhD, Biology, Korea Advanced Institute of Science and Technology (KAIST)
Fellowship: University of California, San Francisco
Research
Blood vessels undergo rapid functional and structural changes, known as angiogenesis and vascular remodeling in various pathologic conditions. The Kim lab's primary focus includes:
Unraveling effective strategies to delay metastatic progression by modulating the tumor microenvironment, specifically by targeting the tumor vasculature. 
Investigating the role of vascular leakage in T-cell exclusion and tumor immune suppression.
Understanding the contribution of blood-brain barrier disruption to the progression of Alzheimer's disease.  

Lab site: Kim Lab
Research Interests
Cancer Biology
Vascular Biology
Immunotherapy
Selected Publications
*Co-first author, #Corresponding author
Kim S*, Carvajal R, Kim M, Yang HW#. Kinetics of RTK activation determine ERK reactivation and resistance to dual BRAF/MEK inhibition in melanoma. Cell Rep. 2023 May 29;42(6):112570. [Epub ahead of print] PubMed PMID: 37252843.
Park HR*, Shiva A*, Cummings P, Kim S, Kim S, Lee E, Leong A, Chowdhury S, Shawber C, Carvajal R, Thurston G, An JY, Lund AW, Yang HW, Kim M#. Angiopoietin-2-Dependent Spatial Vascular Destabilization Promotes T-cell Exclusion and Limits Immunotherapy in Melanoma. Cancer Res. 2023 Jun 15;83(12):1968-1983. PubMed PMID: 37093870; PubMed Central PMCID: PMC10267677 (Cover article)
Kim S*, Leong A, Kim M#, Yang HW#. CDK4/6 initiates Rb inactivation and CDK2 activity coordinates cell-cycle commitment and G1/S transition. Sci Rep. 2022 Oct 7;12(1):16810. PubMed PMID: 36207346; PubMed Central PMCID: PMC9546874.
Inoue M*, Kim M*, Inoue T*, Tait M, Byrne T, Nitschké M, Murer P, Cha H, Subramanian A, De Silva N, Chiaverotti T, McDonald DM. Oncolytic vaccinia virus injected intravenously sensitizes pancreatic neuroendocrine tumors and metastases to immune checkpoint blockade. Mol Ther Oncolytics. 2022 Mar 17;24:299-318. PubMed PMID: 35118189; PubMed Central PMCID: PMC8783073.
Leong A*, Kim M#. The Angiopoietin-2 and TIE Pathway as a Therapeutic Target for Enhancing Antiangiogenic Therapy and Immunotherapy in Patients with Advanced Cancer. Int J Mol Sci. 2020 Nov 18;21(22). PubMed PMID: 33217955; PubMed Central PMCID: PMC7698611.
Kim M*, Nitschké M*, Sennino B*, Murer P, Schriver BJ, Bell A, Subramanian A, McDonald CE, Wang J, Cha H, Bourgeois-Daigneault MC, Kirn DH, Bell JC, De Silva N, Breitbach CJ, McDonald DM. Amplification of Oncolytic Vaccinia Virus Widespread Tumor Cell Killing by Sunitinib through Multiple Mechanisms. Cancer Res. 2018 Feb 15;78(4):922-937. PubMed PMID: 29259007; PubMed Central PMCID: PMC6501576.
Kim M*, Allen B, Korhonen EA, Nitschké M, Yang HW, Baluk P, Saharinen P, Alitalo K, Daly C, Thurston G, McDonald DM. Opposing actions of angiopoietin-2 on Tie2 signaling and FOXO1 activation. J Clin Invest. 2016 Sep 1;126(9):3511-25. PubMed PMID: 27548529; PubMed Central PMCID: PMC5004955.
Korhonen EA, Lampinen A, Giri H, Anisimov A, Kim M, Allen B, Fang S, D'Amico G, Sipilä TJ, Lohela M, Strandin T, Vaheri A, Ylä-Herttuala S, Koh GY, McDonald DM, Alitalo K, Saharinen P. Tie1 controls angiopoietin function in vascular remodeling and inflammation. J Clin Invest. 2016 Sep 1;126(9):3495-510. PubMed PMID: 27548530; PubMed Central PMCID: PMC5004934.
Kim M*, Park HJ*, Seol JW*, Jang JY, Cho YS, Kim KR, Choi Y, Lydon JP, Demayo FJ, Shibuya M, Ferrara N, Sung HK, Nagy A, Alitalo K, Koh GY. VEGF-A regulated by progesterone governs uterine angiogenesis and vascular remodelling during pregnancy. EMBO Mol Med. 2013 Sep;5(9):1415-30. PubMed PMID: 23853117; PubMed Central PMCID: PMC3799495. (Cover article)
Kataru RP, Kim H, Jang C, Choi DK, Koh BI, Kim M, Gollamudi S, Kim YK, Lee SH, Koh GY. T lymphocytes negatively regulate lymph node lymphatic vessel formation. Immunity. 2011 Jan 28;34(1):96-107. PubMed PMID: 21256057.
Kim M*, Koh YJ, Kim KE, Koh BI, Nam DH, Alitalo K, Kim I, Koh GY. CXCR4 signaling regulates metastasis of chemoresistant melanoma cells by a lymphatic metastatic niche. Cancer Res. 2010 Dec 15;70(24):10411-21. PubMed PMID: 21056990.
Koh YJ, Kim HZ, Hwang SI, Lee JE, Oh N, Jung K, Kim M, Kim KE, Kim H, Lim NK, Jeon CJ, Lee GM, Jeon BH, Nam DH, Sung HK, Nagy A, Yoo OJ, Koh GY. Double antiangiogenic protein, DAAP, targeting VEGF-A and angiopoietins in tumor angiogenesis, metastasis, and vascular leakage. Cancer Cell. 2010 Aug 9;18(2):171-84. PubMed PMID: 20708158.