Craig Soderquist, MD
Pathology - Anatomic & Clinical, Pathology - Hematology, Pathology - Molecular Genetic, Pathology-Anatomic/Pathology-Clinical
More specialties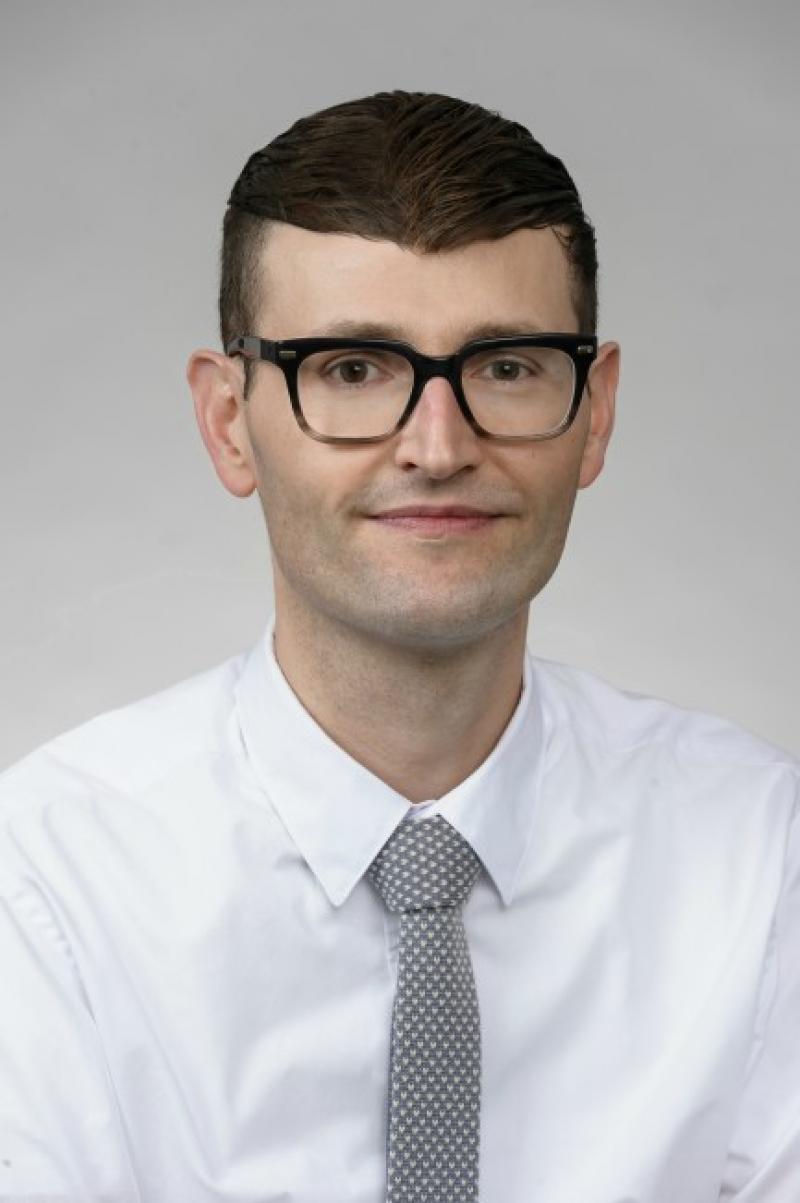 Overview
I am a pathologist with subspecialty expertise in hematopathology and molecular genetic pathology. My work within the Division of Hematopathology includes interpretation and diagnosis of bone marrow and lymph node biopsies using microscopic, immunohistochemical, flow cytometric, and molecular techniques. As part of the Division of Personalized Genomic Medicine, I analyze mutational profiles of cancer specimens and look for biomarkers that will help guide prognosis and treatment. I also work on the development and validation of emerging molecular assays which can better inform personalized cancer treatment.
My research is focused on identifying the underlying cellular and molecular mechanisms of hematologic malignancies and the translation of these findings into clinical care. I have a special interest in the genetics of T-cell lymphomas, myeloproliferative neoplasms, and acute leukemias.
Email: crs2130@cumc.columbia.edu
Areas of Expertise / Conditions Treated
Acute Lymphoblastic Leukemia
Acute Myelogenous Leukemia/AML
Chronic Lymphocytic Leukemia
Chronic Myelogenous Leukemia
Cutaneous T-Cell Lymphoma
Essential Thrombocythemia
Follicular Lymphoma
Hodgkin's Lymphoma
Mantle Cell Lymphoma
Molecular Cancer Testing
Molecular Diagnostics
Multiple Myeloma
Myelodysplastic Syndrome
Non-Hodgkin's Lymphoma
Polycythemia Vera
T-Cell Lymphoma
Waldenstrom's Macroglobulinemia
Academic Appointments
Assistant Professor of Pathology & Cell Biology at CUMC
Hospital Affiliations
NewYork-Presbyterian / Columbia University Irving Medical Center
Schedule an Appointment
Connect Patient Portal
For existing patients, login to make an appointment, view documentation or contact your care provider.
Insurance Accepted
Cigna
EPO
Great West (National)
HMO
POS
PPO
Emblem/GHI
Medicare Managed Care
PPO
Emblem/HIP
ConnectiCare
EPO
Essential Plan
HMO
Medicaid Managed Care
Medicare Managed Care
POS
PPO
Select Care (Exchange)
Vytra
Medicare
Railroad
Traditional Medicare
UnitedHealthcare
Compass (Exchange)
Empire Plan
HMO
Medicare Managed Care
POS
PPO
*Please contact the provider's office directly to verify that your particular insurance is accepted.
Credentials & Experience
Education & Training
MD, Columbia University College of Physicians and Surgeons
Residency: Hospital of the University of Pennsylvania
Residency: 2015 University of Pennsylvania School of Medicine
Fellowship: Hospital of University of Pennsylvania
Fellowship: Hospital of the University of Pennsylvania
Fellowship: 2017 NewYork-Presbyterian/Columbia University Medical C
Board Certifications
Pathology - Hematology
Pathology-Anatomic/Pathology-Clinical
Pathology - Molecular Genetic
Honors & Awards
Joseph G. Fink Laboratory Medicine Faculty Teaching Award, Columbia University P&S
William Pepper Fellowship Award, University of Pennsylvania
Doctor Harold Lee Meirhof Memorial Prize, Columbia University P&S
Daniel J. Fink, M.D. Memorial Prize, Columbia University P&S
Doris Duke Clinical Research Fellowship, Columbia University P&S
Research
Selected Publications
Soderquist CR, Lewis SK, Gru AA, Vlad G, Williams ES, Hsiao S, Mansukhani MM, Park DC, Bacchi CE, Alobeid B, Green PH, Bhagat G. Immunophenotypic Spectrum and Genomic Landscape of Refractory Celiac Disease Type II. Am J Surg Pathol. 2021 Feb 2.
Soderquist CR, Patel N, Murty VV, Betman S, Aggarwal N, Young KH, Xerri L, Leeman-Neill R, Lewis SK, Green PH, Hsiao S, Mansukhani MM, Hsi ED, de Leval L, Alobeid B, Bhagat G. Genetic and phenotypic characterization of indolent T-cell lymphoproliferative disorders of the gastrointestinal tract. Haematologica. 2020 Jul;105(7):1895.
Soderquist CR, Ewalt MD, Czuchlewski DR, Geyer JT, Rogers HJ, Hsi ED, Wang SA, Bueso-Ramos CE, Orazi A, Arber DA, Hexner EO, et al. Myeloproliferative neoplasms with concurrent BCR-ABL1 translocation and JAK2 V617F mutation: a multi-institutional study from the bone marrow pathology group. Mod Pathol. 2018 May;31(5):690-704.
Soderquist CR, Bhagat G. Cellular and molecular bases of refractory celiac disease. International Review of Cell and Molecular Biology. 2021 Feb 13;358:207-40.
Soderquist CR, Bhagat G. Gastrointestinal T-and NK-cell Lymphomas and Indolent Lymphoproliferative Disorders. Seminars in diagnostic pathology. 2020 Jan;37(1):11-23
Moon CS, Reglero C, Cortes JR, Quinn SA, Alvarez S, Zhao J, Lin WH, Cooke AJ, Abate F, Soderquist CR, Fiñana C, Inghirami G, Campo E, Bhagat G, Rabadan R, Palomero T, Ferrando AA. FYN–TRAF3IP2 induces NF-κB signaling-driven peripheral T-cell lymphoma. Nat Cancer. 2021 Jan;2(1):98-113.
Leeman-Neill RJ, Soderquist CR, Montanari F, Raciti P, Park D, Radeski D, Mansukhani MM, Murty VV, Hsiao S, Alobeid B, Bhagat G. Phenogenomic heterogeneity of post-transplant plasmablastic lymphomas. Haematologica. 2020 Dec 3.