Anne Koehne de Gonzalez, MD
Pathology - Anatomic & Clinical, Pathology-Anatomic/Pathology-Clinical
More specialties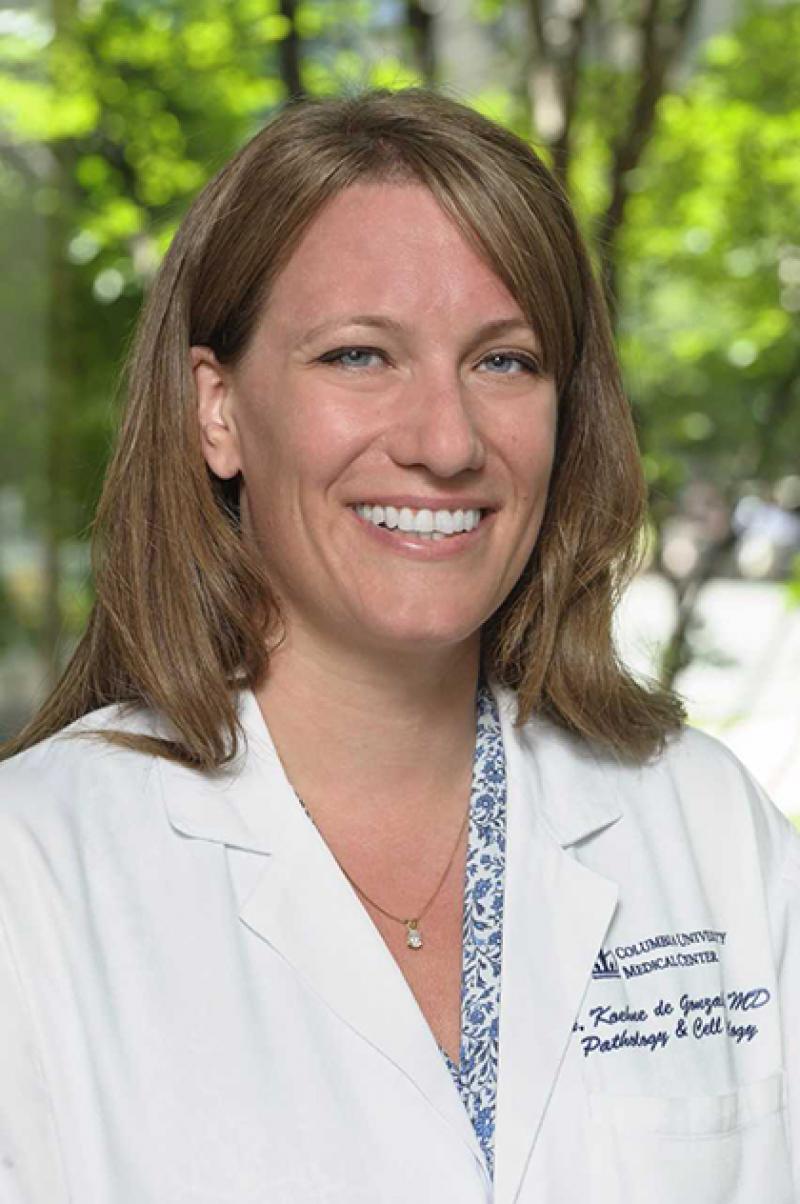 Overview
Research interests include clinical and translational projects in liver, pancreatobiliary, and gastrointestinal pathology.
Email: ak3304@cumc.columbia.edu
Areas of Expertise / Conditions Treated
Gastrointestinal Pathology
Liver Pathology
Surgical Pathology
Academic Appointments
Assistant Professor of Pathology and Cell Biology at CUMC
Administrative Titles
Director, Pathology and Laboratory Medicine, NYP-Westchester
Hospital Affiliations
NewYork-Presbyterian / Columbia University Irving Medical Center
Schedule an Appointment
Connect Patient Portal
For existing patients, login to make an appointment, view documentation or contact your care provider.
Insurance Accepted
Medicare
Railroad
Traditional Medicare
*Please contact the provider's office directly to verify that your particular insurance is accepted.
Credentials & Experience
Education & Training
MD, University of Maryland School of Medicine
University of Maryland
Residency: NewYork-Presbyterian Hospital/Columbia University Medical Center
Fellowship: Columbia University Medical Center
Committees, Societies, Councils
United States and Canadian Academy of Pathology
College of American Pathologists
Roger Haggitt Gastrointestinal Pathology Society
Board Certifications
Pathology-Anatomic/Pathology-Clinical
Research
Research Interests
Clinical and translational projects in liver, pancreatobiliary, and gastrointestinal pathology
Selected Publications
Chen DA*, Koehne de Gonzalez A*, Fazlollahi L, Coffey A, Remotti HE, and Lagana SM. (2020). In situ hybridisation for albumin RNA in paediatric liver cancers compared with common immunohistochemical markers. Journal of Clinical Pathology. 2020. doi: 10.1136/jclinpath-2020-206663.
Yan H*, Qiu W*, Koehne de Gonzalez AK*, Wei JS, Tu M, Xi CH, Yang YR, Peng YP, Tsai WY, Remotti HE, Miao Y, Su GH. HHLA2 is a Novel Immune Checkpoint Protein in Pancreatic Ductal Adenocarcinoma and Predicts Post-surgical Survival. Cancer Lett. 2019 Feb 1;442:333-340. doi: 10.1016/j.canlet.2018.11.007.
Koehne de Gonzalez A, Lagana SM. Update on Ancillary Testing in the Evaluation of High-Grade Liver Tumors. Surg Pathol Clin. 2018 Jun;11(2):367-375. doi: 10.1016/j.path.2018.02.004.
Koehne de Gonzalez AK, Lefkowitch JH. Heart Disease and the Liver: Pathologic Evaluation. Gastroenterol Clin North Am. 2017 Jun;46(2):421-435. doi: 10.1016/j.gtc.2017.01.012
Margolskee E, Bao F, Koehne de Gonzalez A, Moreira R, Lagana S, Sireci A, Sepulveda A, Remotti H, Lefkowitch J, and Salomao M. Hepatocellular Adenoma Classification: A comparative evaluation of immunohistochemistry and targeted mutational analysis. Diagnostic Pathology 2016 Mar 9; 11(27). doi: 10.1186/s13000-016-0475-5.
Koehne de Gonzalez AK, Salomao MA, Lagana SM. Current concepts in the immunohistochemical evaluation of liver tumors. World J Hepatol. 2015 Jun 8; 7(10):1403-11. doi: 10.4254/wjh.v7.i10.1403.