Michael L. Miller, MD, PhD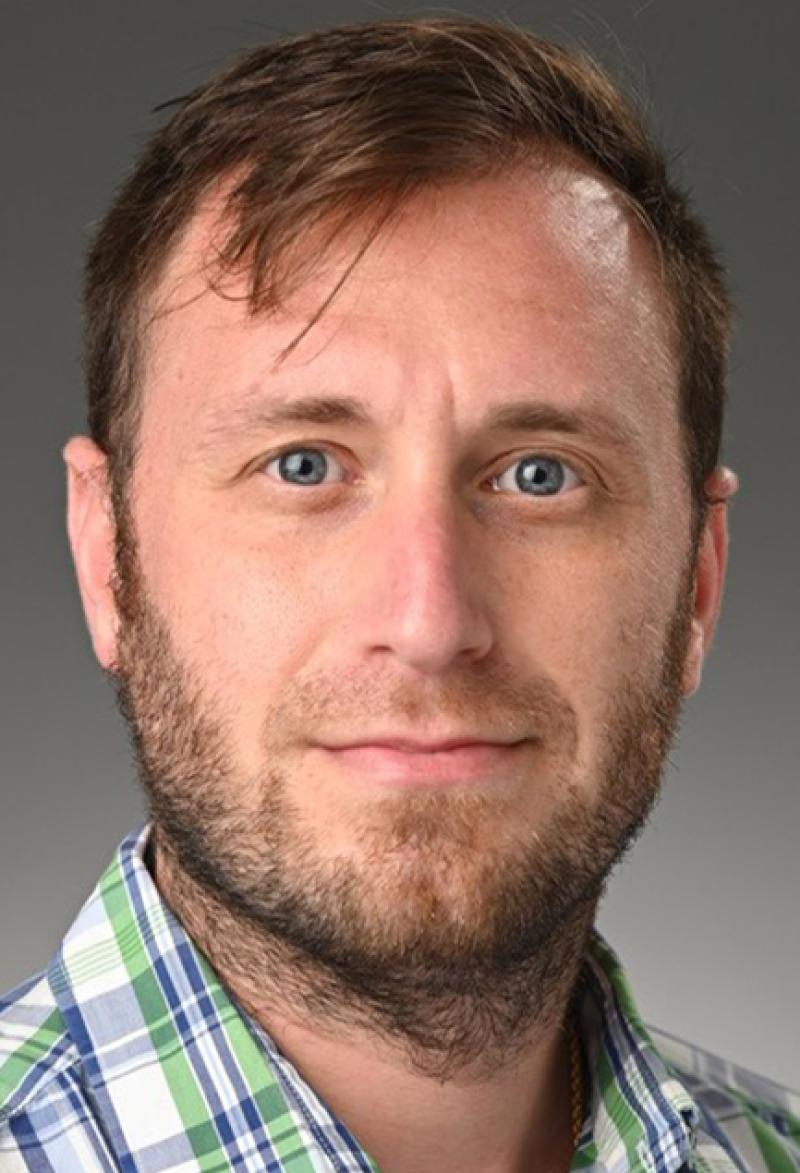 Overview
Michael L. Miller, MD, PhD, is a neuropathologist at the Department of Pathology and Cell Biology. Dr. Miller completed undergraduate training at Binghamton University in New York with concentrations in integrative neuroscience and biochemistry. Building on this foundation, he then completed graduate training at the Icahn School of Medicine at Mount Sinai in New York, receiving doctoral degrees in medicine and neuroscience as part of their combined MD/PhD medical-scientist training program. Dr. Miller completed post-graduate training in anatomic pathology and neuropathology at Columbia University Irving Medical Center as part of the Department's combined AP/NP training program.
Dr. Miller has broad academic interests related to the field of neuropathology. In particular, he is interested in the relationships between the nervous system, the neuromuscular system and the immune system, and the impact of these relationships to human disease. Translating these interests to practice, Dr. Miller is interested in the development and safe implementation of new technologies to assist the pathologist during their examination.
Academic Appointments
Assistant Professor of Pathology and Cell Biology at CUMC
Hospital Affiliations
NewYork-Presbyterian / Columbia University Irving Medical Center
Schedule an Appointment
Connect Patient Portal
For existing patients, login to make an appointment, view documentation or contact your care provider.
Insurance Accepted
Cigna
EPO
Great West (National)
HMO
POS
PPO
Emblem/GHI
Medicare Managed Care
PPO
Emblem/HIP
ConnectiCare
EPO
Essential Plan
HMO
Medicaid Managed Care
Medicare Managed Care
POS
PPO
Select Care (Exchange)
Vytra
Medicare
Railroad
Traditional Medicare
UnitedHealthcare
Compass (Exchange)
Empire Plan
HMO
Medicare Managed Care
POS
PPO
*Please contact the provider's office directly to verify that your particular insurance is accepted.
Credentials & Experience
Education & Training
Mount Sinai School of Medicine
Residency: NewYork-Presbyterian / Columbia University Irving Medical Center
Fellowship: NewYork-Presbyterian / Columbia University Irving Medical Center
Honors & Awards
2021-2022: Shelanski Research Innovation Award, Department of Pathology & Cell Biology, Vagelos College of Physicians and Surgeons
2015-2018: Ruth L. Kirschstein National Research Service Award Fellow, National Institute on Drug Abuse, National Institutes of Health
Project title: Identifying distinct striatonigral and striatopallidal disturbances (F30-DA-038954)
2009-2010: Barry M. Goldwater Scholar in Mathematics, Science and Engineering, The Barry M. Goldwater Foundation

Research
Selected Publications
Argenziano MG, Furnari JL, Miller ML, Sun Y, Banu MA, Neira JA, Snuderl M, Bruce JN, Welch M, McCormick P, & Canoll P. (2022). Thoracic low grade glial neoplasm with concurrent H3 K27M and PTPN11 mutations. Acta Neuropathologica Communications, 10, article no. 64. PMID 35484611.
Troy C, Gill B, Miller ML, Hickman R, Canoll P, Zacharoulis S, Feldstein N, & Bruce J. (2022). Adenocarcinoma arising in a yolk sac tumor of the pineal gland. Journal of Neuropathology and Experimental Neurology, 84, 291-295. PMID 35172008.
Lin WV, Rand GM, Miller ML, Marr BP, & Suh L. (2022). A case of sight threatening complications from topical 1% 5-fluorouracil in the treatment of ocular surface squamous neoplasia. American Journal of Ophthalmology Case Reports, 25, article no. 101265. PMID 35128150. 
Hickman RA, Gionco JT, Faust PL, Miller ML, Bruce J, Page-Wilson G, Rosenblum MK, & Asa SL. (2022). Pituitary Corticotroph Tumour with Adrenocortical Cells: A distinct clinicopathologic entity with unique morphology and methylation profile. Neuropathol Appl Neurobiol, 48, e12754. PMID 34296770.
Agopyan-Miu AHCW, Banu MA, Miller ML, Troy C, Hargus G, Canoll P, Wang TJC, Feldstein N, Haggiagi A, & McKhann II GM. (2021). Synchronous supratentorial and infratentorial oligodendrogliomas with incongruous IDH1 mutations, a case report. Acta Neuropathologica Communications, 9, article no. 160. PMID 34587990.
Thakur KT, Miller EH, Glendinning MD, Al-Dalahmah O, Banu MA, Boehme AK, Boubour AL, Bruce SS, Chong AM, Claassen J, Faust PL, Hargus G, Hickman RA, Jambawalikar S, Khandji AG, Kim CY, Klein RS, Lignelli-Dipple A, Lin CC, Liu Y, Miller ML, Moonis G, Nordvig AS, Overdevest JB, Prust ML, Przedborski S, Roth WH, Soung A, Tanji K, Teich AF, Agalliu D, Uhlemann AC, Goldman JE, & Canoll P. (2021). COVID-19 neuropathology at Columbia University Irving Medical Center/New York Presbyterian Hospital. Brain, 144, 2696-2708. PMID 33856027.
Troy C, Sisti J, Maldonado-Soto A, Tosto-D'antonio G, Miller ML, Remotti F, & Mandigo G. (2021). A case of pediatric stroke: osteosarcoma embolus in the internal carotid artery. Case reports in neurology, 13, 269-275. PMID 34177532.
Manini AF, Gibson CL, Miller ML, Richardson LD, Vargas-Torres CC, Vedanthan R, & Hurd YL. (2021). Biomarkers of endothelial dysfunction in cocaine overdose and overdose-related cardiovascular events. Addiction Biology, 26, e12901. PMID 32293773.
Egervari G, Akpoyibo D, Rahman T, Fullard JF, Callens JE, Landry JA, Ly A, Zhou X, Warren N, Hauberg ME, Hoffman G, Ellis R, Ferland JN, Miller ML, Keller E, Zhang B, Roussos P, & Hurd YL. (2020). Chromatin accessibility mapping of the striatum identifies tyrosine kinase FYN as a therapeutic target for heroin use disorder. Nature Communications, 11, 4634. PMID 32929078
Michaelides M, Miller ML, Egervari G, Primeaux SD, Gomez JL, Ellis RJ, Landry JA, Szutorisz S, Hoffman AF, Lupica CR, Loos RJF, Thanos PK, Bray GA, Neumaier JF, Zachariou V, Wang G-J, Volkow ND, & Hurd YL. (2020). Striatal Rgs4 regulates feeding and susceptibility to diet-induced obesity. Molecular Psychiatry, 25, 2058-2069. PMID 29955167.
Annunziata J, Miller ML, Park DC, Vlad G, Bhagat G, & Alobeid A. (2020). Detection of non-hematologic neoplasms by routine flow cytometry analysis. American Journal of Clinical Pathology, 153, 99-104. PMID 31587038.
Miller ML, Tome-Garcia J, Waluszko A, Sidorenko T, Kumar C, Ye F, & Tsankova NM. (2019). Practical bioinformatic DNA-sequencing pipeline for detecting oncogene amplification and EGFRvIII mutational status in clinical glioblastoma samples. Journal of Molecular Diagnostics, 21, 514-524. PMID 31000415.
Miller ML, Chadwick B, Dickstein DL, Purushothaman I, Egervari G, Rahman T, Tessereau C, Hof PR, Roussos P, Shen L, Baxter MG, & Hurd YL. (2019). Adolescent exposure to ?9-tetrahydrocannabinol alters the transcriptional trajectory and dendritic architecture of prefrontal pyramidal neurons. Molecular Psychiatry, 24, 588-600. PMID 30283037.
Miller ML, Ren Y, Szutorisz H, Warren NA, Tessereau C, Egervari G, Mlodnicka A, Kapoor M, Chaarani B, Morris CV, Schumann G, Garavan H, Goate AM, Bannon MJ, IMAGEN Consortium, Halperin JM, & Hurd YL. (2018). Ventral striatal regulation of CREM mediates impulsive action and drug addiction vulnerability. Molecular Psychiatry, 23, 1328-1335.  PMID 28439100.