Armando Del Portillo, MD, PhD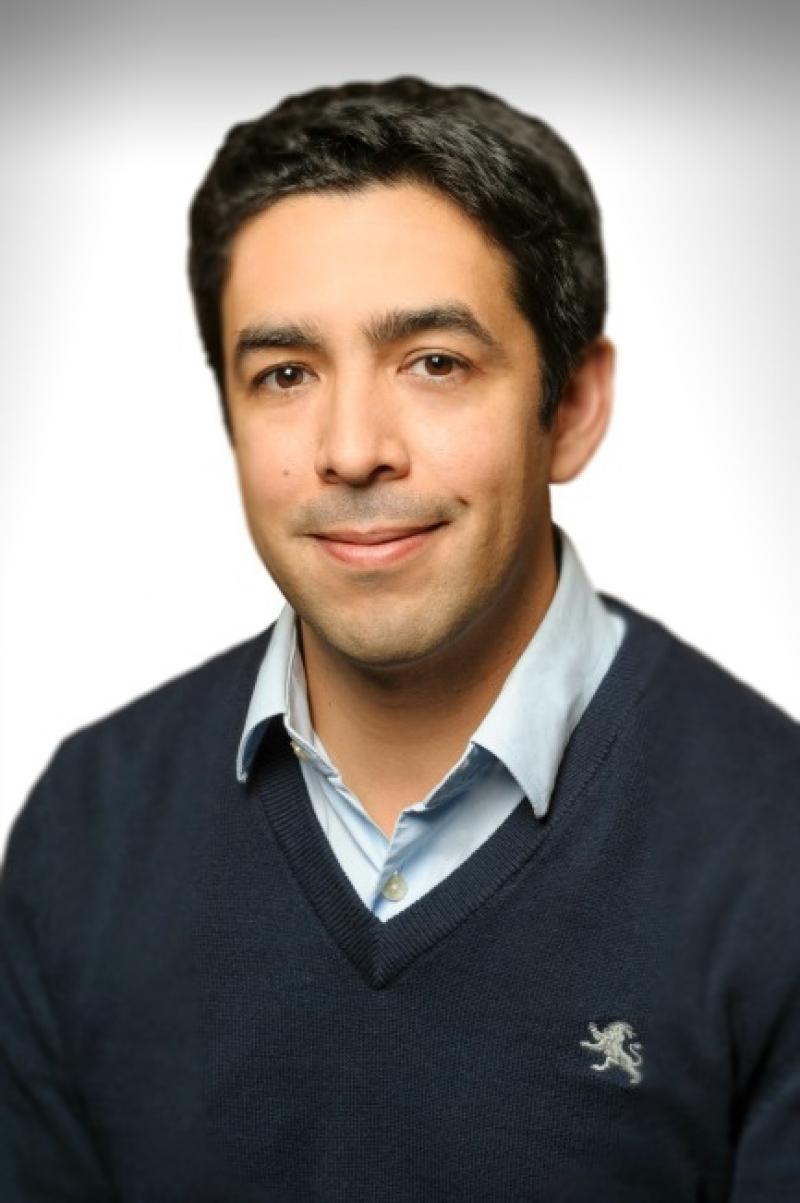 Overview
Dr. Del Portillo is a surgical pathologist specializing in gastrointestinal, pancreas, and liver pathology, with a special interest in pre-cancerous and cancerous lesions of the GI tract. His practice includes routine and complex biopsies and resection specimens from adult and pediatric populations; transplantation specimens from GI, pancreas, and liver; and a consultation service. Dr. Del Portillo regularly attends multidisciplinary conferences including Barrett's esophagus conference and gastric and colorectal tumor boards.
Dr. Del Portillo is actively involved in training and education of medical students, residents, and fellows, and earned the Dr. Karl Perzin Award for Excellence in Anatomic Pathology Teaching. He serves as the director of the GI/pancreas/liver pathology fellowship program.
Dr. Del Portillo earned his MD and PhD from Icahn School of Medicine, trained at New York Presbyterian-Columbia University Irving Medical Center for Anatomic Pathology, and completed his GI/pancreas/liver pathology fellowship at Columbia University. He has been an Assistant Professor at Columbia since 2016.
Email: ad3011@cumc.columbia.edu
Academic Appointments
Assistant Professor of Pathology & Cell Biology
Hospital Affiliations
NewYork-Presbyterian / Columbia University Irving Medical Center
Schedule an Appointment
Connect Patient Portal
For existing patients, login to make an appointment, view documentation or contact your care provider.
Insurance Accepted
For billing questions, please call (212) 305-7399.
Cigna
EPO
Great West (National)
HMO
POS
PPO
Emblem/GHI
Medicare Managed Care
PPO
Emblem/HIP
ConnectiCare
EPO
Essential Plan
Medicaid Managed Care
Medicare Managed Care
POS
PPO
Select Care (Exchange)
Vytra
Medicare
Railroad
Traditional Medicare
UnitedHealthcare
Compass (Exchange)
Empire Plan
HMO
Medicare Managed Care
POS
PPO
*Please contact the provider's office directly to verify that your particular insurance is accepted.
Credentials & Experience
Education & Training
MD, Mount Sinai School of Medicine
Residency: NewYork-Presbyterian Hospital/Columbia University Medical Center
Committees, Societies, Councils
United States & Canadian Academy of Pathology
International Gastric Cancer Association
New York Pathological Society
American Association for Cancer Research
Research
Selected Publications
Michael Lee, MD, Satoru Kudose, Armando Del Portillo, Huaibin Mabel Ko, Hwajeong Lee, Meredith E. Pittman, Marcela A. Salomao, Antonia R Sepulveda, Stephen M. Lagana. "Invasive Carcinoma versus Pseudoinvasion: Interobserver Variability in the Assessment of Left-sided Colorectal Polypectomies." Journal of Clinical Pathology, 2021 Apr 12 ;jclinpath-2021-207406. PMID: 33846218.
Johannes C. Melms, Jana Biermann, Huachao Huang, Yiping Wang, Amit Dipak Amin, Igor Katsyv, Adrienne M. Luoma, Meri Rogava, Sean W. Chen, Patricia Ho, Emmanuel Zorn, Jay H. Lefkowitch, Charles Marboe, Stephen. M. Lagana, Armando Del Portillo, Glen S. Markowitz, Anjali Saqi, Hanina Hibshoosh, Jianwen Que, Benjamin Izar. "A single-cell lung atlas of lethal COVID-19." Nature, 2021 Jul;595(7865):114-119. PMID: 33915568.
Julian Abrams, Armando Del Portillo, Caitlin Hills, Griselda Compres, Richard Friedman, Bin Cheng, John Poneros, Charles Lightdale, Rachel de la Rue, Massimiliano di Pietro, Rebecca Fitzgerald, Antonia Sepulveda, and Timothy Wang. "Randomized Controlled Trial of the Gastrin/CCK2 Receptor Antagonist Netazepide in Patients with Barrett's Esophagus." Cancer Prevention Research, 2021 Jun;14(6):675-682. PMID: 33782049.
Woosook Kim, Timothy H. Chu, Henrik Nienhüser, Zhengyu Jiang, Armando Del Portillo, Helen E. Remotti, Ruth A. White, Yoku Hayakawa, Hiroyuki Tomita, James G. Fox, Charles G. Drake, and Timothy C. Wang. "PD-1 Signaling Promotes Tumor-Infiltrating Myeloid-Derived Suppressor Cells and Gastric Tumorigenesis in Mice." Gastroenterology, 2020 Oct 28;S0016-5085(20)35325-7. PMID: 33129844.
Simona De Michele, MD, Helen E Remotti, MD, Armando Del Portillo, MD, PhD, Stephen M Lagana, MD, Matthias Szabolcs, MD, Anjali Saqi, MD, MBA. "SATB2 in Neoplasm of Lung, Pancreatobiliary, and Gastrointestinal Origins." American Journal of Clinical Pathology, 2020 Sep 11. PMID: 32914850.
Stephen M Lagana, Satoru Kudose, Alina C Iuga, Michael J Lee, Ladan Fazlollahi, Helen E Remotti, Armando Del Portillo, Simona De Michele, Anne Koehne de Gonzalez, Anjali Saqi, Pascale Khairallah, Alexander M Chong, Heekuk Park, Anne-Catrin Uhlemann, Jay H Lefkowitch, Elizabeth C Verna. "Hepatic pathology in patients dying of COVID-19: a series of 40 cases including clinical, histologic, and virologic data." Mod Pathol. 2020 Aug 13;1-9. PMID: 32792598.
Hiram Shaish; Andrew Auckerman; Rami Vanguri; Antonino Spinelli; Paul Armenta; Sachin Jambwaklier; Jasnit Makkar; Stuart Bentley; Ravi Kiran; Lara Monti; Christiana Bonifacio; Margarita Kirienko; Armando Del Portillo; Kevin L Gardner; Lawrence Schwartz; Deborah Keller. "Radiomics of MRI for pretreatment prediction of pathologic complete response, tumor regression grade and neoadjuvant rectal score in patients with locally advanced rectal cancer undergoing neoadjuvant chemoradiation: An international multicenter study." European Radiology, 2020, Jul 14. PMID: 32500192.
Simon Sung, M.D., Armando Del Portillo, M.D., Ph.D., Tamas Gonda, M.D., Michael D. Kluger, M.D., M.P.H., and Patricia G. Tiscornia-Wasserman, M.D. "Update on the risk stratification in the categories of the Papanicolaou Society of Cytopathology Pancreaticobiliary Guidelines: 3-year prospective single institution experience." Cancer Cytology, 2020, Jan; 128(1):29-35. 

PMID: 31722125.

Armando Del Portillo, Elena V. Komissarova, Aqiba Bokhari, Caitlin Hills, Anne Koehne de Gonzalez, Sarawut Kongkarnka, Helen E. Remotti, Jorge L. Sepulveda, Antonia R. Sepulveda. "Downregulation of Friend Leukemia Integration 1 (FLI1) Follows the Stepwise Progression to Gastric Adenocarcinoma." Oncotarget, 2019, Jun 11;10(39):3852-3864.
Jorge L. Sepulveda, Elena V. Komissarova, Sarawut Kongkarnka, Richard A. Friedman, Jon M. Davison, Brynn Levy, Diana Bryk, Vaidehi Jobanputra, Armando Del Portillo, Gary W. Falk, Joshua R. Sonett, Charles J. Lightdale, Julian A. Abrams, Timothy C. Wang, Antonia R. Sepulveda. "High‐resolution genomic alterations in Barrett's metaplasia of patients who progress to esophageal dysplasia and adenocarcinoma." International Journal of Cancer, Apr 2019.
Yuri Hanada, Alyssa Y. Choi, Joo Ha Hwang, Peter V. Draganov, Lauren Khanna, Amrita Sethi, Michael J. Bartel, Neha Goel, Seiichiro Abe, Rabia A. De Latour, Kenneth Park, Marcovalerio Melis, Elliot Newman, Ioannis Hatzaras, Sanjay S. Reddy, Jeffrey M. Farma, Xiuli Liu, Alexander Schlachterman, Jesse Kresak, Garrick Trapp, Nadia Ansari, Beth Schrope, Jong Yeul Lee, Deepti Dhall, Simon Lo, Laith H. Jamil, Miguel Burch, Srinivas Gaddam, Yulan Gong, Armando Del Portillo, Yutaka Tomizawa, Cumtu D. Truong, Olaya I. Brewer Guitierrez, Elizabeth Montgomery, Fabian M. Johnson, Mark Duncan, Marcia Canto, Nita Ahuja, Anne Marie Lennon, Saowanee Ngamruengphong. "Low Frequency of Lymph Node Metastases in US Patients With Early Gastric Cancer Who Fulfill Japanese Endoscopic Resection Criteria." Clinical Gastroenterology and Hepatology, Nov 2018, pii: S1542-3565(18)31274-6.
Ravi K. Amaravadi, Kathryn E. Hamilton, Xiaohong Ma, Shengfu Piao, Armando Del Portillo, Katherine L. Nathanson, Matteo S. Carlino, Georgina V. Long, Igor Puzanov, Xiaowei Xu, Jennifer J.D. Morrissette, Kenneth Y. Tsai, Keith T. Flaherty, Jeffrey A. Sosman, Grant R. Goodman, Grant A. McArthur, Anil K. Rustgi, David C. Metz, Lynn M. Schuchter, Paul B. Chapman, Antonia R. Sepulveda. "Multiple gastrointestinal polyps in patients treated with BRAF inhibitors." Clinical Cancer Research, Dec 2015;21(23):5215-21.
Armando Del Portillo, Stephen M Lagana, Yuan Yao, Takeshi Uehara, Nirag Jhala, Tapan Ganguly, Peter Nagy, Jorge Gutierrez, Aesis Luna, Julian Abrams, Yang Liu, Randall Brand, Jorge Sepulveda, Gary Falk, Antonia R Sepulveda. "Evaluation of Mutational Testing of Pre-neoplastic Barrett's Mucosa by Next Generation Sequencing of FFPE Endoscopic Samples for Detection of Concurrent Dysplasia and Adenocarcinoma in Barrett's Esophagus." Journal of Molecular Diagnostics, Jul 2015;17(4):412-9.