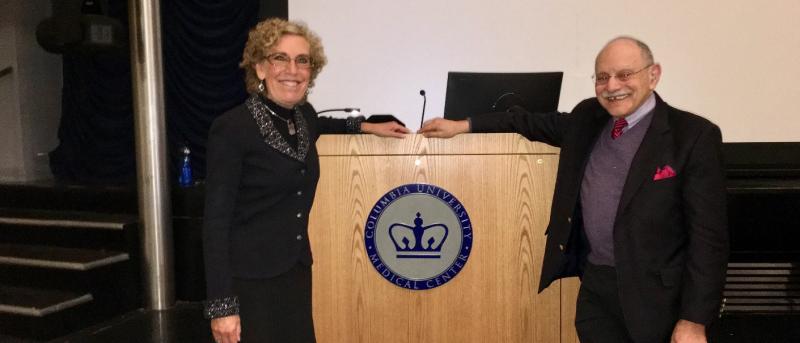 The 29th Kenneth Naidorf Memorial Lecture
On January 18, 2018, the Department held the 29th Kenneth Naidorf Memorial Lecture. The invited lecturer was Dr. Elaine Fuchs, who is currently the Rebecca C. Lancefield Professor at Rockefeller University.
Her lecture entitled "Skin Stem Cells in Silence, Action and Cancer," illuminated her work on the biology of skin stem cells. Her research employs high throughput genomic analyses, live imaging, cell biology, and functional approaches to unravel the molecular pathways that determine the normal balance between stem cell maintenance and differentiation and how this goes awry in cancers. Her team is learning how stem cells establish unique chromatin landscapes and programs of gene expression and how this shifts in response to changes in their local environment. They have found that activating signals from neighboring cells instruct skin stem cells when to make hair and when to repair injuries. Conversely, inhibitory cross talk tells the stem cells when to stop making tissue and rest. This work is accelerating the development of therapeutics to enhance wound repair.
Dr. Elaine Fuchs did her undergraduate work at the University of Illinois, and completed her doctoral studies at Princeton University.  Following her post-doctoral studies at MIT where she studied keratin genes in the epidermis, she established her own laboratory in the Department of Biochemistry at the University of Chicago in 1980, where she rapidly rose through the ranks to become a full professor in 1989 and the Amgen Professor of Basic Sciences in 1993. She was subsequently recruited by Rockefeller University, where she is currently the Head of the Laboratory of Mammalian Biology and Development. She was also selected to be a Howard Hughes Associate Investigator in 1988 and an Investigator in 1993.
Dr. Fuchs has been the recipient of numerous awards, starting with her selection as a Presidential Young Investigator in 1984 to receiving the National Medal of Science in 2009. She has been elected to the National Academy of Medicine and the National Academy of Sciences. She is also a member of the National Philosophical Society and the American Academy of Arts and Sciences. In addition, Dr. Fuchs has been the recipient of a National Merit Award from the NIH. She is currently an Associate Editor of the Journal of Cell Biology and is on the editorial board of a number of other journals, including Cell, Genes and Development and Developmental Cell. She served as president of the American Society for Cell Biology and is the recipient of the E.B. Wilson Award in 2015 among many others.
The Department of Pathology and Cell Biology's Naidorf Memorial Lecture is sponsored by a generous donation from the Naidorf family in memory of Dr. Kenneth Naidorf  who attended Columbia University College of Physicians and Surgeons in the MD-PhD program and received his degrees in 1977. Dr. Naidorf did his doctoral studies investigating the role of macrophages in cellular immunity under the aegis of Dr. Richard Gershon, Professor of Pathology and Director of the Howard Hughes Institute of Immunology at Yale. Results of these investigations have been published in major scientific journals.  He was an intern at Waterbury Hospital before completing his residency in internal medicine at the Columbia-Presbyterian Medical Center and was board certified in that specialty in 1980. At the time of the tragic accident that prematurely ended his life and promising career, Dr. Naidorf was Chief Resident in Dermatology at the Yale New Haven Hospital.