Swikrity Upadhyay Baskota, MD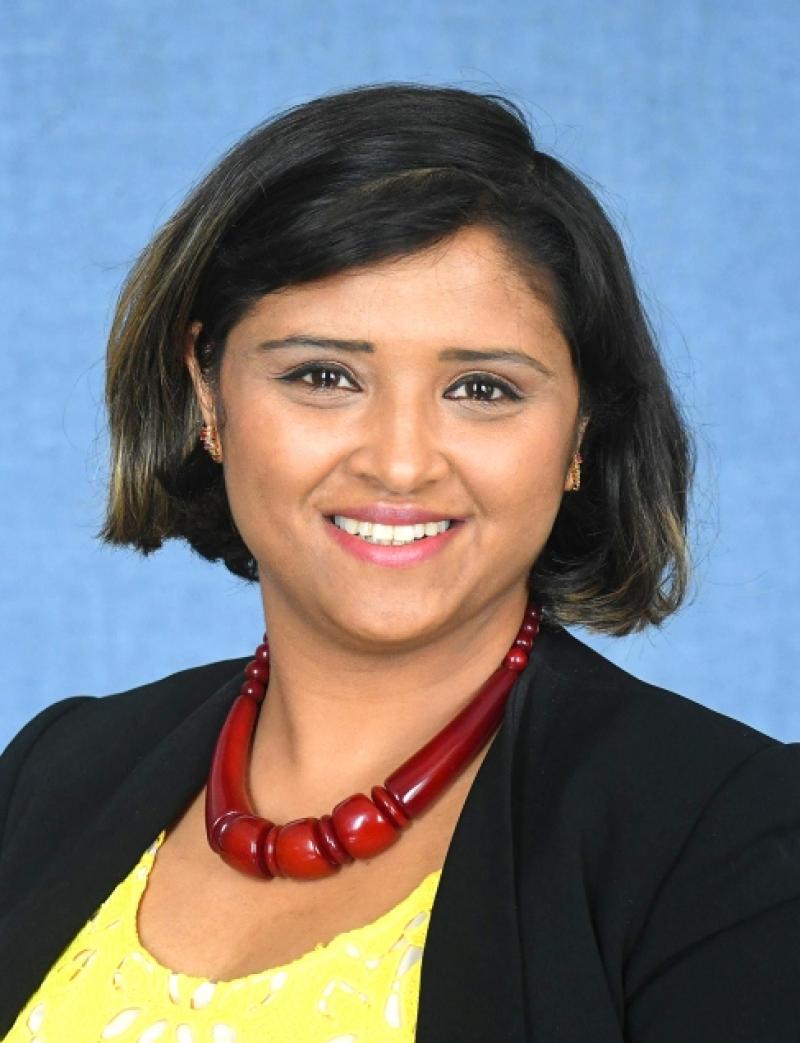 Overview
Dr. Baskota is a cytopathologist and surgical pathologist at the Department of Pathology and Cell Biology. She completed her anatomic pathology residency and cytopathology fellowship training at the University of Pittsburgh Medical Center (2017-2021). She also completed anatomic and clinical pathology residency training from National Academy of Medical Sciences, Kathmandu, Nepal (2011-2014), and medical school from College of Medical Sciences, Bharatpur, Kathmandu University, Nepal (2003-2009). She practiced anatomic and clinical pathology in her home country, Nepal for 2 years.
Dr. Baskota, is currently a board of directors at College of American Pathologists Foundation. She is also appointed as a member of the global pathology committee and development committee by the foundation. She is current vice-chair for the ejournal Committee and ebulletin and podcast committee of American Society of Cytopathology. She was also recently appointed as a member of the social media committee and education and training committee for Papanicolaou society of cytopathology. She is also an editorial board member of Diagnostic Cytopathology journal. Dr. Baskota, was recognized by the Pathologist magazine as 2022 power list of pathologists. She was honored by the American Society of Cytopathology with 2022 Volunteer appreciation award and 2020 Dr. Bernard Naylor Excellence in Cytomorphology Award. She is also active in various social media educational platforms. She has several peer-reviewed articles published in esteemed journals.
Academic Appointments
Assistant Professor of Pathology and Cell Biology at CUMC
Hospital Affiliations
NewYork-Presbyterian / Columbia University Irving Medical Center
Schedule an Appointment
Connect Patient Portal
For existing patients, login to make an appointment, view documentation or contact your care provider.
Insurance Accepted
Cigna
EPO
Great West (National)
HMO
POS
PPO
Emblem/GHI
Medicare Managed Care
PPO
Emblem/HIP
ConnectiCare
EPO
Essential Plan
HMO
Medicaid Managed Care
Medicare Managed Care
POS
PPO
Select Care (Exchange)
Vytra
Medicare
Railroad
Traditional Medicare
UnitedHealthcare
Compass (Exchange)
Empire Plan
HMO
Medicare Managed Care
POS
PPO
*Please contact the provider's office directly to verify that your particular insurance is accepted.
Research
Selected Publications
Wong Fok Lung T, Charytonowicz D, Beaumont KG, Shah SS, Sridhar SH, Gorrie CL, Mu A, Hofstaedter CE, Varisco D, McConville TH, Drikic M, Fowler B, Urso A, Shi W, Fucich D, Annavajhala MK, Khan IN, Oussenko I, Francoeur N, Smith ML, Stockwell BR, Lewis IA, Hachani A, Upadhyay Baskota S, Uhlemann AC, Ahn D, Ernst RK, Howden BP, Sebra R, Prince A. Klebsiella pneumoniae induces host metabolic stress that promotes tolerance to pulmonary infection. Cell Metab. 2022 May 3;34(5):761-774.e9. doi: 10.1016/j.cmet.2022.03.009. Epub 2022 Apr 11. PMID: 35413274; PMCID: PMC9081115.
Baskota SU, Coconubo DM, Li R, Srivastava P, Cuda J, Khader S. Reassessing the optimal volume for malignancy detection in serous fluid cytology. Cancer Cytopathol. 2022 Jul;130(7):551-557. doi: 10.1002/cncy.22577. Epub 2022 Apr 25. PMID: 35468659.
Jones TE, La HS, Upadhyay-Baskota S, Bhargava R, Jones MW. The Potential Prognostic and Therapeutic Implications of Prolactin Receptor and Growth Hormone-releasing Hormone Receptor Expression in Uterine Leiomyosarcomas. Int J Gynecol Pathol. 2021 Dec 3. doi: 10.1097/PGP.0000000000000844. Epub ahead of print. PMID: 34856572.
Baskota SU, Wang T, Zhao C. Follow-up findings in Post-Conservative Treatment Surveillance for Women with Cervical Adenocarcinoma in-Situ. J of Lower Genital Tract Dis. 2021 Jan; 25 (1): 38- 42. 
Baskota SU, Chandra A, Cross P. The Practice of Cytopathology during the Era of COVID-19: Challenges and Changes. Diagnostic Histopathol. 2021; 27(3): 116-122. 
Baskota SU, Dabbs DJ, Clark BZ, Bhargava R. Prosigna® Breast Cancer Assay: Histopathologic Correlation, Development, and Assessment of Size, Nodal Status, Ki-67 (Sink™) Index for Breast Cancer Prognosis. Mod Pathol. 2021 Jan; 34 (1): 70-76.
Baskota SU, Wiley C, Pantanowitz L.A. Next Generation Robotic Microscopy for Intraoperative Teleneuropathology Consultation. J Pathol Inform 2020; 11: 13.
Baskota SU., Monaco, S.E., Xing, J. and Pantanowitz, L. Peritheliomatous pattern: A diagnostic clue for diagnosing metastatic melanoma in cytology. Cancer Cytopathol 2020; 128(4):260?268.6
Baskota SU, Lopez O, Greenamyre J and Kofler J. Spectrum of Tau Pathologies in Huntington's disease. J of Lab Investigation 2018; 166-9.
Scurry J, Baskota SU. HPV-Associated Atypical Mitotic Figures in Squamous Intraepithelial Lesions of the Lower Female Genital Tract. J Low Genital Tract Dis 2016 Apr; 20(2):165-8.
Baskota SU, Joshi AR, Singh SK. Bone Marrow Touch Imprint Smears as An Adjunct to Bone Marrow Aspiration Smears in Hematological Disorders. J of Pathol of Nepal 2015; 5 (9): 739- 46.